Townsend Commissioned Navy Chaplain
Top Headlines
Date:
July 25, 2008
Contact:
ksuarez@andrews.edu
Website:
Phone: 269-471-3348
Dressed in official Navy whites, LT j.g. Adrienne Townsend was overwhelmed with emotion as she accepted the Oath of Office and was officially sworn in as the first Seventh-day Adventist woman to serve as an active duty chaplain in the United States Navy. Townsend, an associate dean of women at Lamson Hall until May 2008, was surrounded by loved ones and colleagues at her Commissioning Service on Thursday, July 24, at the Andrews University Seventh-day Adventist Theological Seminary chapel.

Townsend has become a well-known and beloved face on campus since she joined the Andrews University staff in July 2004 as a dean of women for Lamson Hall. Service as a military chaplain has been a dream of Townsend's for quite some time and she has spent years in preparation. "The military is a huge mission field with the same aged people as those I have been working with here at Andrews University. I feel God has laid the foundation for me here to go out into the military and reach those who need to hear about Christ," she says.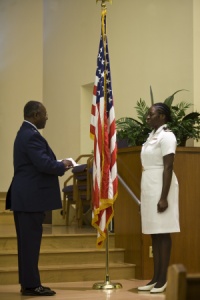 ENS Zachary Juniper, associate dean of men for Andrews University, gave a welcome and read comments from Chaplain (Colonel) Gary R. Councell, U.S. Army Retired
Director for Adventist Chaplaincy Ministries, who was unable to attend the ceremony. "The insignia on Chaplain Townsend's uniform represents two kinds of relationships: the rank on her collar conveys authority as an officer in our country's armed forces while the crosses declare her spiritual purpose," read ENS Juniper.

Lt. Christopher Carmichael, a Navy representative from the Navy Officer Recruiting Station in East Lansing, Mich., presented Townsend with her Presidential Appointment signed by President George W. Bush. "We know everyone here today is sad to say good-bye to LT j.g. Townsend but the U.S. Navy is standing by to welcome her with open arms," said Lt. Carmichael.

The Oath of Office was delivered by Chaplain James North, Seminary chaplain, followed by a Charge and Welcome to Chaplaincy. "I am delighted," said Chaplain North, "to preside over a ceremony that is at once both secular and religious in nature."

In a show of support, voices joined together in song for the Navy Hymn. Clifford Jones, associate dean and professor in the Seventh-day Adventist Theological Seminary, offered a benediction followed by a closing song by Journey, a multi-national singing ensemble from Andrews University.

Tanya Bindernagel was also recognized as the first women to be endorsed for ministry as a chaplain in the United States Army by the Seventh-day Adventist Church. Bindernagel was unable to assume active duty due to family commitments.
Townsend will begin Officer Development School in Rhode Island at the beginning of September. She will be in training there until the end of November, at which time she will receive her assignment and ship out for duty.