Pulse FM Broadcasts Live from Andrews
Top Headlines
Date:
July 25, 2008
Contact:
ksuarez@andrews.edu
Website:
Phone: 269-471-3348
Customers shopping at the Andrews University Bookstore on Thursday, July 24 got a chance to hear the familiar made-for-radio voice of Tom Scott, a DJ for Pulse FM 96.9/92.1. But it wasn't through the overhead speakers; he was broadcasting live from the bookstore while giving away free World Pulse Festival tickets and several other great prizes.

From 11 am to 1 pm, people from both on-campus and the community stopped by the bookstore to pick up their free World Pulse Festival tickets and to register to win one of four prizes: a $50 gas card, one of two iPod shuffles and a $50 gift certificate to the Andrews University Bookstore. Everyone who registered also got a free gift from Pulse FM and Andrews University, but the demand was so great, supplies ran out toward the end of the two-hour broadcast. In just two hours, over 500 World Pulse Festival tickets were distributed.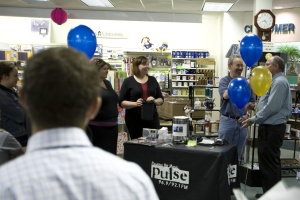 Pulse FM listeners also had a chance to learn more about Andrews University from eight different faculty, staff and students who were interviewed live by Scott. Stephen Payne, vice-president of Enrollment Management and Marketing & Communication, was introduced by Scott as, "Gum Guy." Payne has a tradition of handing out gum wherever he goes—hence the name Gum Guy—and his reputation has spread to the World Pulse Festival. Scott asked if Payne knew how many sticks of gum he distributed last year at World Pulse Festival. "Actually, it was about 12,000 to 13,000. But this year, I hope to make it 15,000 to 16,000!" said Payne.

Scott also interviewed Japhet De Oliviera, chaplain for missions; William Wolfer, chair of engineering and computer science; Larry Ulery, director of the Service Learning Center, Duane Covrig, professor of leadership and educational administration, John Carlos, professor of physical therapy, and Karen Ybanez, a recent Andrews University graduate.

The winners were drawn shortly before the live remote ended. Gillian Sanner of Berrien Springs won the $50 gas card, Richelle Ulery of Berrien Springs took home the $50 Andrews University Bookstore gift certificate and Shaunielle Abreu of Berrien Springs and Chris Greenley of Dowagiac are both enjoying music on their new iPod Shuffles.

The crew from Pulse FM chose to do a live remote radio broadcast from Andrews University to give people living in southwest Michigan a chance to pick up tickets in their neighborhood for World Pulse Festival 2008. Pulse FM is the event's organizer and Andrews University is a proud sponsor of this Christian musical festival that brings 60,000 to 70,000 people from across the country together for one day each summer.