Engineering Achieves ABET Accreditation
Top Headlines
Date:
August 28, 2008
Contact:
ksuarez@andrews.edu
Website:
Phone: 269-471-3348
ABET (Accreditation Board for Engineering and Technology) recently notified Andrews University's Department of Engineering and Computer Science of their achievement of ABET accreditation, retroactive to 2006, for the engineering program. ABET is the nationally recognized accrediting body for college and university programs in applied science, computing, engineering and technology. This achievement is the culmination of years of work by many members of the Andrews University faculty and comes two years earlier than the original goal. This achievement gives Andrews University the distinction of becoming the second accredited engineering program in the Adventist higher education system.
Accreditation is a voluntary, peer-review process that requires programs to undergo comprehensive, periodic evaluations. The evaluations, conducted by teams of volunteer professionals working in industry, government, academia and private practice within the ABET disciplines, focus on program curricula, faculty, facilities, institutional support and other important areas.
"Our program has always been of the highest quality. ABET accreditation confirms this. It gives graduate programs, industry and prospective students the confidence and knowledge that this engineering program is recognized for being a quality program by the ABET accrediting body," said Bill Wolfer, chair of the Andrews University Department of Engineering and Computer Science.
All of the department faculty were included in the program's self study and in the development of quality assessment methods for the accreditation process. In the midst of the accreditation process, the Industrial Partnership Counsel (IPC), made up of education and industrial professionals, was formed in order to provide key input into the program. Members of the IPC represent a regional, national and global perspective, and include representatives from Western Michigan University, the University of Notre Dame, Grand Valley State University, Premier Tool & Die Cast Corporation, Berrien Regional Education Service Agency, LECO Corporation, American Electric Power and the American Society of Agricultural and Biological Engineers.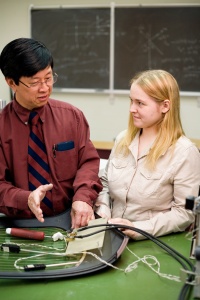 The engineering program founding fathers, including Ronald L. Johnson, Bruce Lee, Robert Kingman, Bob Ludeman, Harold Lang, Glenn Johnson, were the former faculty of the engineering technology program at Andrews University. That program laid the foundation for developing a strong engineering technology and pre-engineering program.
"We had a strong two-year pre-engineering program, which gave us a head start and is one of the main reasons we are two years ahead of our goal to achieve ABET accreditation," says Wolfer.
In 2002, Robert Kingman, professor emeritus, organized and chaired a committee charged with assessing the feasibility of establishing an engineering program at Andrews University. Would there be room for an engineering program, in addition to the one at Walla Walla College, in the Adventist education system? If so, would it attract quality engineering students? Kingman's study showed a large percentage of Seventh-day Adventist college students are receiving their engineering education from state schools. The research concluded with the realization of a great need for a Seventh-day Adventist engineering program located east of the Rockies to compliment to the strong engineering program Walla Walla University, located in Washington, while also offering students a choice when choosing to study engineering at an Adventist institution.
Phasing out the engineering technology program and starting up a full four-year engineering degree required logistics, sacrifices and tenacity. Kingman, joined by then-dean of the College of Technology, Wes Shultz, both well-respected educators in the Adventist higher education system, collaborated in planning for the program while setting the direction and bar for engineering. Their experiences and expertise helped forge the way.
Kingman championed the initiative all the way to the Andrews University Board of Trustees. In February, 2003, a vote was taken to offer a four-year engineering degree program. It was approved and the program was officially underway by fall semester of 2003. Bill Wolfer, then faculty in the computer science department, was asked to chair the program. The first students majoring in engineering graduated in 2006.
"Dr. Niels-Erik Andreasen, president of Andrews University, believed in us and our vision for establishing a great engineering program here at Andrews. He gave us an incredible opportunity: his trust and support. His charge to us was to develop a world class, socially responsible program that will be a place of choice for those seeking an engineering education in a Christ-centered environment. With his leadership and vision, Andrews University now has a new ABET accredited program," said Wolfer.
Bruce Lee (deceased), a former chair of the physics department, and his wife Barbara, understood the challenges the fledgling program faced and stepped in with generous support. Their gifts made it possible to equip labs with cutting edge technology, helping attract internationally diverse, world class educators and professionals dedicated to delivering the best engineering education possible at Andrews University.
"It has been a very happy and rewarding experience getting to this first of many milestones," said Wolfer. "We never wavered and we kept our eyes on the prize."
"The educational and professional experiences of our faculty are amazing. When you see their passion, the cutting edge equipment and effective student-to-teacher ratio, our students have unprecedented opportunities to learn and grow and be mentored by the best," says Niels-Erik Andreasen, president of Andrews University. "Our faculty aspire to be socially responsible engineers who prepare our students well for continuing education (grad school) and industry. We hope that they will take our values of social responsibility and service throughout their career."
The Andrews University Department of Engineering and Computer Science currently employs five engineering faculty and three computing faculty. During the 2007-2008 school year, the department had 96 students, with enrollment nearly evenly split between engineering and computer science. (Current enrollment numbers will be available on Sept. 10)
ABET, Inc., a federation of 28 professional and technical societies, is among the most respected accreditation organizations in the U.S. ABET currently accredits some 2,800 programs at more than 600 colleges and universities nationwide. ABET is recognized by the Council for Higher Education Accreditation.
Several individuals deserve special recognition for their hard-work and contribution to achieving ABET accreditation. Ronald L. Johnson, professor emeritus and former chair of engineering technology and computer science, whose leadership and determination to see a quality engineering program established at Andrews University was vital and key to achieving ABET accreditation. "I have dreamed of having a four-year engineering program at Andrews University for more than 30 years. Now we have the engineering program and it is ABET accredited! This would not have happened without the excellent support from the administration and the science faculties, and the hard work of the very capable group of faculty that make up the department. God is good!" says Johnson.
Other individuals who deserve special recognition include: Verlyn Benson, dean of the College of Technology, whose continuing support led to achievement of ABET accreditation; Linda Thorman, consultant, whose expertise transformed all the pieces required for accreditation; and with administrative assistant Willyta Wamack for her amazing organizational skills which established efficient quality improvement and outcome assessments processes.