August 2008 Graduation
Top Headlines
Date:
August 7, 2008
Contact:
ksuarez@andrews.edu
Website:
Phone: 269-471-3348
On Sunday, August 3, 430 men and women joined 34,000 others as alumni of Andrews University. As the graduates marched into the sanctuary of Pioneer Memorial Church for the final time as students, friends and family of the graduates, who come from all over the world, watched on.

President Niels-Erik Andreasen introduced Provost Heather Knight, who presented the recipients of the J.N. Andrews Medallion. This award recognizes significant achievement in the advancement of knowledge and education by Seventh-day Adventist teachers, scholars and writers. Roger L. Dudley, professor emeritus in the Seventh-day Adventist Theological Seminary, and Cleon White, principal of Andrews Academy, were each awarded the J.N. Andrews Medallion for their commitment to Adventist education.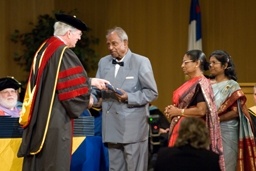 Andreasen then awarded a medal not often given out at graduation: the President's Medallion. The Andrews University President's Medallion was designed to recognize individuals who have distinguished themselves in causes that the university views as congruent with its own idealism, mission and Christian outreach. The award was given to Shri. Krishnaswamy Thulasiah Vandayar, chairman of A. Veeriya Vandayar Memorial Sri Pushpam College in India (see photo insert). Andreasen referred to him as a "disciple of Gandhi and a believer that education should be available to all classes." The medallion includes the inscription, "Live today to touch tomorrow."

Ganoune Diop (Ph.D. '95), director of the Global Mission Study Center for the General Conference of Seventh-day Adventists, delivered the commencement address. Born into a Muslim family, he later became an Adventist while studying music in Paris. Diop is known for his commitment to share God's knowledge through his teaching, preaching, motivational speaking, books, articles and music. His presentation, "Remembering the Future," posed a thought-provoking question for the new graduates: "What is the logic of life?" They didn't have to wait long for the answer. "God has secured your future," he said.

Michael Lawson, president of the Andrews University Alumni Association Board of Directors (B.B.A. '87), turned to the graduates before him and stated, "You are officially an Andrews University alum." Lawson welcomed them to the family of 34,000 Andrews University alumni living around the world and challenged the class of 2008 to, "get involved and give your time."

Friday evening, Ann-Marie Jones, assistant professor of social work, asked graduates, "What are Your Plans for the Future?" during the consecration service at Pioneer Memorial Church. Sabbath morning, Karl Haffner, senior pastor of Kettering Seventh-day Adventist Church in Kettering, Ohio, gave the graduates a spiritual thought with his sermon, "Wisdom for All Seasons." Haffner urged graduates to focus on the important things in life because it is what we do today that will determine how we are remembered.