Dining Services Nears Completion
Top Headlines
Date:
August 7, 2008
Contact:
ksuarez@andrews.edu
Website:
www.andrews.edu/life/living/dining
Phone: 269-471-3348
Their all-vegetarian menu may not be new, but Dining Services is celebrating the complete renovation of their kitchen, servery and dining rooms. Come and celebrate this major milestone on Sunday, August 17, from 3–5 p.m., with a tour of the new facilities while enjoying hors d'oeuvres. Witness the introduction of the new World Market with the ceremonial sautéing of the first stir-fry at 4 p.m. with individuals who have dedicated months of work to the project participating. Dining Services will be fully operational by the beginning of the school year.
The old facility was officially closed in March of 2008 to begin renovations. During construction, all food preparation and serving for Andrews University, Andrews Academy and Ruth Murdoch Elementary School moved into a 2,000-sq. ft. area previously used by the Gazebo, the campus snack shop. Much of the food prep and cooking was done in a rented mobile kitchen trailer parked next to the Gazebo entrance.
The new Dining Services menu is true to a longstanding all-vegetarian tradition and will feature familiar favorites combined with new, exotic dining options scattered across several new food stations. The all-new "World Market" brings food prep out of the kitchen and into the servery with a chef preparing customized omelets and stir-frys. New pizza ovens are sure to make made-to-order whole grain crust pizzas a popular choice. The "Campus Grill" will serve hot pancakes and waffles in the morning and hot sandwiches during the lunch and dinner hours. Customers can make their own paninis at the "Harbor Deli" and the "Breakfast Zone" will feature, among other new choices, bulk cereal—just one way Dining Services is striving to become more environmentally friendly. Classic menu options, like the campus favorite Sam's Chicken (vegetarian, of course), will be central at the "Andrews Classics" and "Andrews Classics Too" food stations. The new "Salad Bar" will have a wide variety of fresh salad ingredients, fruits, veggies and cold salads.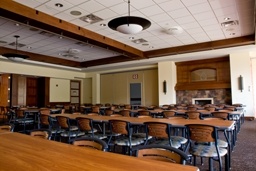 From the kitchen to the servery to the dining rooms, everything is new, including four new dining rooms (see photo insert). Named with Midwest pride in mind, the new rooms are aptly known as the Lincoln Room (Illinois), the Badger Room (Wisconsin), the Hoosier Room (Indiana) and the Great Lakes Room (Michigan).
The transition toward bulk food options—a way to reduce packaging waste—is just one way Dining Services hopes to become, over time, more environmentally friendly. Dining Services also hopes the new facility will encourage more dine-in traffic and less carry-outs, reducing Styrofoam waste. "Carry-out containers will still be available, but we want to encourage eating in our new dining rooms on our new dinnerware. We not only want to be environmentally friendly: we also want to promote our campus culture in a social atmosphere," says Dianne Wilson, assistant director of Dining Services.