Opening Night 2008!
Top Headlines
Date:
August 26, 2008
Contact:
hpac@andrews.edu
Website:
http://howard.andrews.edu/
Phone: 269-471-3560
The kick-off to the 2008–2009 season at the Howard Performing Arts Center will keep your toes tapping with swinging jazz tunes performed by Lake Effect Jazz and your favorite Broadway show tunes performed by Andrews University students and alumni on Sunday, Sept. 14, 2008, at 7 p.m.
This free, upbeat concert is certain to provide an exceptional experience to Southwest Michigan music-lovers. Lake Effect Jazz Big Band was formed in 2000 to perform classic and contemporary big band jazz arrangements in a concert setting. Modeled after the famous, hard-swinging jazz big bands of the 1950s, they are dedicated to preserving classic jazz big band sounds while bringing recent jazz releases to the public ear as well.
Christopher Keech, director, is well-known in the area as a jazz saxophonist and instructor. Originally from Hartford, Mich., Christopher received his Associate of Arts from Lake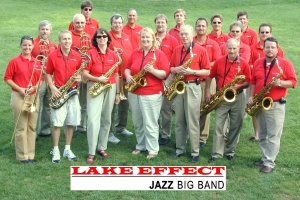 Michigan College and received a Bachelor of Science degree from Western Michigan University where he majored in jazz studies. He has performed with jazz greats John Lewis and Jimmy Heath, and pop artists The Captain and Tennille, Michael Bolton and The Temptations.
Carey Pearson, graduate voice performance major, Kristi Straw, Andrews alum, and Chloe Lewis, Andrews student, will perform music from
Phantom of the Opera
,
Fiddler on the Roof
,
Guys and Dolls
,
Oliver!, Les Miserables
,
The Secret Garden
and
Pirates of Penzance
.
Tickets for Opening Night 2008! Featuring Lake Effect Jazz and Carey Pearson can be reserved by calling the Howard Performing Arts Center box office at 269-471-3560. General admission tickets are free.