New Students Arrive
Top Headlines
Date:
August 19, 2008
Contact:
ksuarez@andrews.edu
Website:
Phone: 269-471-3348
Hundreds came by car, dozens by van, a couple by foot and even one family by RV, but they all came with a shared goal in mind: bringing their sons and daughters to Andrews University to begin their college education on Sunday, August 17. It was First Stop and Registration for hundreds of new incoming freshman and transfer students at Andrews.

Joined by their parents, siblings, aunts, uncles, grandparents and friends from all around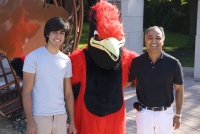 the world, students were met with a one-stop shop for registration, known as First Stop, in the lobby of the Howard Performing Arts Center where they could do everything from obtain financial clearance and set their course schedule to register for a parking permit and set up a local bank account. By the end of the day on Monday, August 18, following two full days of registration, Don May, director of General Education and Student Retention for Andrews University tallied 401 students—both incoming freshman and transfer students—who completed the First Stop process. Last year at this time during registration week, there were 344 students, meaning that overall new student and transfer student numbers appear to be up.

Following registration, a steady stream of new students and their parents were seen with arms loaded full of dorm room furnishings and clothing headed into the men's and women's residence halls. The ladies of Lamson Hall got an extra helping hand from alumni as they moved their belongings into their new home for the school year. Even Pastor Dwight K. Nelson, senior pastor of Pioneer Memorial Church, pitched in while getting to know some of the new students and their families.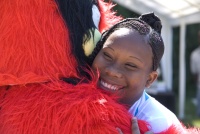 On Sunday afternoon new students and their parents, along with the community, got a sneak peek at the new Dining Services in the Campus Center during an open house. The facility underwent a complete renovation over the summer months. Though the new facility won't be fully operational for a few more weeks, guests were able to tour the new kitchen, servery and dining rooms while sampling a few treats, courtesy of Dining Services. "Is this the same place?" commented one returning student upon seeing the renovations for the first time.

The lawn in front of the Campus Center was a hub of activity for the annual Corn Roast for new students, parents, faculty and staff Sunday evening. Social Recreation staff and volunteers were busy grilling 840 ears of corn on nearly 21 feet of grill. Music filled the air as three groups performed. Shelly Erhard, social recreation event coordinator, said, "I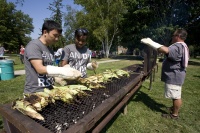 loved having the three music groups performing out on the new patio area in front of the Campus Center. There was a wonderful breeze under sunny skies while people enjoyed the ambiance of the smell of grilled corn combined with the sound of music. I loved seeing the new students who I helped through previews last year come through as new students."

Registration for new, transfer and returning students will continue throughout the remainder of the week, running simultaneously with new student orientation activities. Classes begin on Monday, August 25.