Acappella Coming to the Howard
Top Headlines
Date:
September 10, 2008
Contact:
hpac@andrews.edu
Website:
http://howard.andrews.edu
Phone: 269-471-3560
For a perfect demonstration of the tone quality and acoustics the Howard Performing Arts Center was designed to produce, music lovers will not want to miss a performance by Acappella. This quintet with a mission to spread the message of God's love will be in concert at the Howard Performing Arts Center at Andrews University in Berrien Springs, Mich. on Saturday, Sept. 20, 2008, at 8 p.m.

Acappella's ability to fill a concert hall with only the human voice will send shivers down your spine. Their skilled voices make pure music without any additional instrument while showcasing the versatility and flexibility of the voice as an instrument.

Their latest album is entitled Radiance. Radiate is just what these young, twenty-something men do with their gift of music and enthusiasm for spreading the love of God through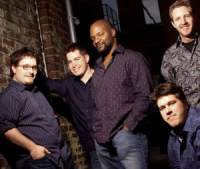 music. Members Allen Brantley, Robin Brannon, Zac George, Zach Wilson and Anthony Lancaster,give off a contagious energy when performing in concert that keeps audiences captivated. The group has evolved over the last two decades with several line-up changes and now includes a fifth member, but their voices and musical gifts make this group stronger than ever.

Since 1988 when they released their landmark album Sweet Fellowship, the group has experimented with new sounds, but continues to come back to their original unique style. Numerous singles later, Acappella has created a name—and sound—for themselves. They've toured internationally after being well-received in countries all over the world, from Brazil to Switzerland to Australia.

Tickets for Acappella can be purchased by calling the Howard Performing Arts Center box office at 269-471-3560. General admission tickets are $20 and Andrews University student tickets are $10. Special rates apply for groups and Flex Series tickets.