Historic High at Andrews University
Top Headlines
Date:
September 18, 2008
Contact:
ksuarez@andrews.edu
Website:
Phone: 269-471-3348
A record-setting 2008–2009 school year is underway at Andrews University with numbers at historic levels and national rankings higher than ever.

Andrews University has been named one of the "Best National Universities" for 2009, as reported in U.S. News and World Report's "America's Best Colleges" issue. U.S. News and World Report ranks Andrews University as the 7th most racially diverse national university. Andrews is 6th among national universities in its percentage of international students. Of the more than 4500 institutions of higher education in the United States, 262 of these are recognized as national universities, schools that provide master's and doctoral programs in addition to an array of undergraduate degrees. Just 98 private institutions meet these requirements. Andrews University is the only Seventh-day Adventist institution included as a national university and one of seven national universities in Michigan.

The final fall census report shows the 2008-2009 enrollment numbers for Andrews University are once again at historic levels, with 3,419 students enrolled, an increase of 198 students or 6.1% over the previous school year. Additionally, the undergraduate enrollment of 1,760 students and 396 freshmen are the largest since the early 1990's.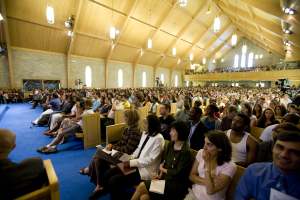 "It's exciting to have a year filled with some remarkable historical achievements," says Stephen Payne, vice-president of Enrollment Management and Integrated Marketing & Communication. "It's something that simply reflects God's blessings, a lot of hard, strategic and coordinated work across our campus, from our enrollment and student financial services team to teachers and the staff in the residence halls who all helped prepare for students who were joining us, either for the first time, or returning to continue their education at Andrews University."

The new freshman population is at 396, up 59 students or 17.5%, the largest freshmen class at Andrews University in more than 20 years. FTE's (full-time equivalent) is up 6.5%, or 151 students. Transfers are up 4.2% and undergraduate enrollment is up 8.3%. Andrews is also experiencing the largest undergraduate student population in nearly 20 years with 1,760 students.

"In terms of our growth, we're seeing part of a wave of entering freshmen that's growing nationwide and predicted to hit its peak nationally next year," says Payne. "Even so, it's exciting to experience remarkable growth here in the Midwest, where some of the increases in the number of high school graduates are not as dramatic as elsewhere in the country, and some of our significant growth in freshmen this year has come from places like the Pacific Northwest, California, Colorado and the southern States. Also, the number of entering freshmen who were home-schooled during their high school years has nearly doubled from 15 to 25."

"Our retention rate went up nicely," said Don May, assistant dean for the College of Arts and Sciences and director of general education and student retention. "Last year, our student retention rate (the number of first-year students who return) was at 77.5%. This year we are at 80%. Noel-Levitz, an enrollment management consultant for higher education, predicted a 72% retention rate for this year, but we've never been that low. We can be pleased our students are returning and graduation rates remain steady."

First-time graduate student enrollment is up 22.5%. Overall graduate student enrollment is up 5.9%, to 1,530 students, the highest graduate enrollment in more than 10 years.

Payne concludes, "Beyond all of these statistics, we realize that we are, in a very real way, talking about young men and women, each of them individuals, who have chosen Andrews University for their own personal and profound reasons, to discover their future and fulfill in their own lives what we describe as our school's mission: we are a place where students can Seek Knowledge, Affirm Faith and Change the World."