Heritage Singers in Concert
Top Headlines
Date:
September 23, 2008
Contact:
ksuarez@andrews.edu
Website:
Phone: 269-471-3348
The Heritage Singers are a gospel music staple in the homes of Christian music fans. Back by popular demand, the Heritage Singers will perform on Saturday, Oct. 4, 2008, at 8 p.m. at the Howard Performing Arts Center at Andrews University in Berrien Springs, Mich.
Originally started 37 years ago, the founder of the Heritage Singers, Max Mace, intended this to be a one- or two-year ministry. He and his wife, Lucy, quickly learned, "When God calls you to do his work … you just obey." The Heritage Singers have had various members come and go, and have been led by God the whole way, while touring more than 60 foreign countries and every single state in the U.S.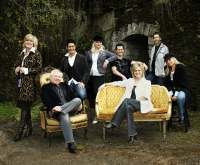 The Heritage Singers are Dave Bell, Tim Calhoun, Marcelo Constanzo, Becki Trueblood Craig, Melodie Davis, Tim Davis, Shani Judd Diehl, Cindy Haffner, Adriane Mace, Max Mace, Val Mace Mapa and Scott Reed, supported by arranger/producer Art Mappa and sound engineer Greg Mace. They have one thing in common with each other: they've all been singing since they were young. Their love for music has brought them together to form more than a music ensemble—it is a power-filled ministry.
Tickets for Heritage Singers can be purchased by calling the Howard Performing Arts Center box office at 269.471.3560. General admission tickets are $15 and Andrews University student tickets are $5. Special rates apply for groups and Flex Series tickets.