State of the University Address
Top Headlines
Date:
September 2, 2008
Contact:
ksuarez@andrews.edu
Website:
Phone: 269-471-3348
On Wednesday, August 27, 2008, faculty and staff gathered in the Howard Performing Arts Center for Andrews University President Niels-Erik Andreasen's 15th State of the University address.

After welcoming faculty and staff, Dan Agnetta, director of Human Resources, turned the podium over to Melchizedek Ponniah, campus coordinator for United Way giving. "The United Way provides meaningful ways for us to be connected with the communities around us," he said.

Following a presentation from Sharon Polfus, director of development for United Way of Southwest Michigan and Jan Nowak from the Niles Salvation Army, on the impact of volunteerism and monetary donations, staff and faculty were encouraged to give in any way they could to the United Way. All faculty and staff will be receiving a personalized pledge card via inter-campus mail, allowing them to make one-time monetary donations or a long-term commitment with regular payroll deductions. (For more information, contact Ponniah at 471-3162 or melchip@andrews.edu)

"Andrews University is in good shape and we should all be grateful," said Niels-Erik Andreasen as he began his State of the University address. Though the national and world economies are struggling and both borrowers and investors have lost money—including Andrews—the university ended the year with a 3% operating gain, which is about $2.5 million.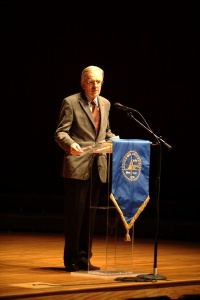 Andreasen publicly congratulated the Andrews University Department of Engineering and Computer Science for achieving ABET accreditation for the engineering program. "I want to use this accomplishment as an illustration of something larger we must deal with as we face the future: The quality of the education we offer," he said. With over 100 Adventist colleges and universities around the world that are quickly maturing, he encouraged faculty and staff with these words: "We must become very good at what we do with our students, beginning on the first day of classes and ending on commencement Sunday."

Andreasen reported revenue has grown faster than expenses for the past four to five years and in each of the last two years, Andrews University ended with gains of $2 million and more. Quickly putting the dollars into perspective, he said, "Two million is a respectable but modest gain on a $75 million budget." With the exception of generating cash, other financial goals for university operations are in process of being met, including producing operating gains and funding capital, adjusting remuneration and managing debt. The debt, according to Andreasen, is low by most standards with the largest portion attributed to the waste water treatment plant.

Reporting on the progress of the Legacy of Leadership campaign for Andrews University, he said, "Progress is slowing somewhat in this economy." Last month, a new university endowment/investment committee was established with the assignment of keeping up with the payouts for scholarships etc, while growing the endowment corpus toward a goal of $50 million and then $ 100 million.

Several significant changes on campus during the last few months were highlighted: the new entrance on J.N. Andrews Boulevard, the renovations of Dining Services, the new Administration Building parking lot and the new milking parlor. Andreasen then did a quick overview of a short list of construction plans and dreams for the campus: Nethery Hall, Buller Hall, the residence halls, the rest of the campus center, a health and recreation center, and an architecture facility.

He ended his State of the University address with these inspiring words, "Leaders are never copy cats: they are different. If Andrews continues to lead, expect it to be different. What are the Andrews differences? Andrews tends to do more with fewer resources than you would think possible and gets away with it. Andrews people respect each other despite their diversity and occasional disagreements. Andrews serves its students liberally, but does not pamper them. Andrews faculty and staff work for a cause greater than the institution that employs them. Andrews has stayed loyal to its Adventist faith commitment for 134 years. Andrews has grown in stature and dignity, but has managed not to become proud. Andrews does, in fact, set the course for the whole flotilla of Adventist colleges and universities. Andrews is a "good Christian University" in the full sense of all three words. Thank you each one for the exemplary work you do to maintain this splendid legacy."

Heather Knight, provost, introduced her address, "Good to Great: Part III." She urged the campus to continue the mission of accepting students where they are and transforming them into committed Seventh-day Adventist Christians, scholars and global leaders from the care and culture exemplified by faculty, staff and administrators.

Knight invited all to envision a "campus that sparkles" both now and into the future. The numerous recent campus improvements and future renovation and improvement projects were highlighted; a charge was presented to effectively map Andrews University's strategy into action; and a reminder was given of the work ahead for the March 2009 NCA accreditation visit from the Higher Learning Commission.

"Andrews University aspires to not only maintain our accredited status, but to also showcase and trumpet a variety of educational and spiritual best practices to our colleagues in higher education. We have a story to tell and we want to tell it through our accreditation process," Knight said.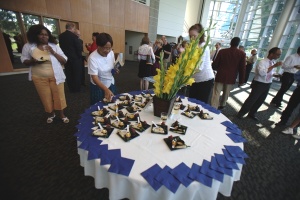 Knight shared copies of the new strategic plan, "A New Andrews for a New Century." The implementation plan for the strategic plan, Knight said, would be shared with campus soon. The five strategic goals are to: 1.) Engender transformational learning; 2.) Deepen connections between faith and learning; 3.) Promote inclusion and excellence; 4.) Model whole-person education; 5.) Enhance capital investments in terms of Human Resources.

Ron Whitehead, assistant to the president of Andrews University for Spiritual Life, closed the service by leading faculty and staff in a responsive prayer of dedication.

Following the State of the University address, light refreshments were served in the Howard Performing Arts Center lobby.