Detroit Free Press Editor Visits Andrews
Top Headlines
Date:
October 9, 2008
Contact:
ksuarez@andrews.edu
Website:
Phone: 269-471-3348
"I have a job I have a passion for. I have a job that allows me to use my skills and ideals in order to make something—a community, an organization—better."

These inspiring words serve as a sort of mantra for Caesar Andrews, executive editor for the Detroit Free Press. He addressed a group of Andrews University students for a Department of Communication assembly on Tuesday, Oct. 7. The students came from a variety of disciplines across campus, including journalism, public relations, marketing and advertising, to name a few.

"I've been a paid journalist for 29 years…I've lived in six different states and worked in eight different newsrooms in 14 different positions," said Andrews. It all started with a reporting position for a newspaper in Florida called Today.

One thing led to another: reporting led to editing, which led to management. "At times, it's been riveting and fascinating, even on the slow days, because this—journalism—is a fascinating field," Andrews said. The driving force behind all of those years, all those jobs, all those locations is one thing, said Andrews, "I've had a job that I loved."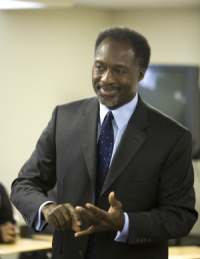 Andrews posed a question: What is the state of the news industry? One response focused directly onto print: "Newspapers are dead." One student observed, the news business is, "Becoming more electronic." Andrews confirmed, "That is central to what is happening to this industry. There is a sense that if [newspapers] aren't totally dead, we are certainly on our deathbed. The vital signs, from some perspectives, are not very good."

Andrews attributed this to a single revolutionary factor: the Internet. "The Internet is affecting how radio stations, television stations and newspapers do business." Why? "Because it is instantaneous," confirmed Andrews. "If I want to get off of this deathbed and create a business model that will allow us to survive and thrive…we have to do whatever we have to do to, in the end, to connect with readers and viewers and listeners."

Journalism has become a multi-media world where print, radio and broadcast media converge into a new medium. In order to survive in this environment, Andrews stated, "I have to become multi-media because the world has changed."

Yet, while technology and the dynamics change, some things do not. No matter what era or decade you choose to jump into the field "some qualities remain very important for the individual employee to get the job, keep the job and advance," said Andrews. During a short brain-storming conversation between Andrews and the students, they identified the key qualities for an employee to have in today's marketplace: innovation, self-starter, trustworthiness and credibility.

Andrews challenged students with this piece of advice: "Every single time I will try mightily to get it right." But career success is more than motivation and good intentions: "I have to deliver results," said Andrews.

Andrews has held the position of executive editor of the Detroit Free Press since 2005. He has also worked for such high-profile news agencies as USA Today and Gannett News Service.
-Written by Keri Suarez, media relations specialist, Office of Integrated Marketing & Communication