N-E-W Trio to Perform
Top Headlines
Date:
October 6, 2008
Contact:
hpac@andrews.edu
Website:
http://howard.andrews.edu
Phone: 269-471-3560
The N-E-W Trio has emerged as one of the most promising young ensembles this past year after achieving the gold medal and grand prize at the 35th Fischoff National Chamber Music Competition at the University of Notre Dame. They are making a stop on their winner's tour at the Howard Performing Arts Center at Andrews University in Berrien Springs, on Sunday, Oct. 19, 2008, at 4 p.m.

On top of their grand prize win at the Fischoff Competition, the N-E-W Trio also won grand prizes at the 61st Coleman National Chamber Music in Pasadena, Calif., as well as first prize at the 2nd Plowman National Chamber Music Competition in Columbia, Mo.

The N-E-W Trio derives its name from the initials of each member's last name. The members are currently working on graduate and doctoral degrees at the Juilliard School. Violinist Andrew Wan, who hails from Canada, has served as concertmaster of the Juilliard Orchestra. He recently recorded Beethoven's Emperor Concerto with Kent Nagano and soloist Till Fellner under ECM.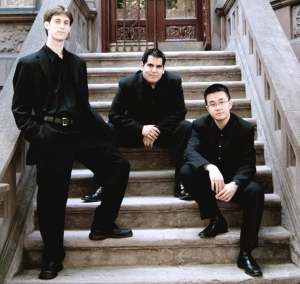 Julio Elizalde is the trio's pianist who is active as a soloist, recitalist, duo partner and chamber musician. Elizalde is a native of San Francisco, Calif., and earned his Bachelor's of Music in three years with honors at the San Francisco Conservatory of Music.

Cellist Gal Nyslea has been praised as an "agile soloist" by New York Times. He has performed internationally and is currently studying with Joel Krosnich at Juilliard School.
Learn more by visiting their web site: www.newtrio.com.

Tickets for N-E-W Trio can be purchased by calling the Howard Performing Arts Center box office at 269-471-3560. General admission tickets are $10 and admission for Andrews University students is free. Special rates apply for groups and Flex Series tickets.