Perfect Score for Teacher Prep Program
Top Headlines
Date:
October 29, 2008
Contact:
sed@andrews.edu
Website:
http://www.andrews.edu/sed/
Phone: 269-471-6210
Following the Oct. 14, 2008, State Board of Education meeting, the Andrews University Teacher Preparation Program has been declared an exemplary organization. The program received a perfect score of 70 out of 70 based on an examination given by the Michigan Department of Education. The Andrews University Teacher Preparation Program was the only institution out of 32 to receive a perfect score and it was the highest score in the state for the 2006–07 academic year. Andrews University's program took top honors over other higher-profile institutions, including the University of Michigan and Michigan State University. Those institutions scored 68 and 66, respectively.
"This is such a positive thing for teacher preparation," says Jim Jeffery, dean of the Andrews University School of Education. "I hope this news can really translate into students exploring education as a career."
Each year, the State of Michigan develops a report card for the 32 Teacher Preparation colleges and universities in Michigan. Examiners use seven measures to assess how each institution has performed in preparing elementary and secondary teachers to educate students. These conditions include the passing rate on the Michigan test of teacher certification; graduating teacher satisfaction level; employer satisfaction survey of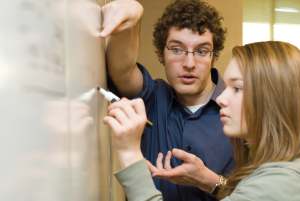 graduates; number of education program completers; program review (percentage of programs approved by the state); diversity of graduating teachers population; and High Need Content–whether the curriculum contains enough content to allow graduates to deal with special-needs students.
"Many have congratulated the Department of Teaching, Learning & Curriculum on their number one ranking. I want everyone to know this is really a university accomplishment, not just a departmental one. Each student has to pass the Michigan Test for Teacher Certification in order to be certified. Our high pass rate is recognition of how well they are prepared by each of the departments on campus," says Lee Davidson, chair of the Department of Teaching, Learning & Curriculum. "We pray that by God's grace we can maintain high standards and prepare teachers that will go out and help change the world for the better."
Jeffery concludes, "I hope we can use this to showcase an area that is excelling."
For more information, visit
www.andrews.edu/sed
or
www.michigan.gov/mde
.
-Written by Ashleigh Jardine, student news writer, Office of Integrated Marketing & Communication