Wellness Fair
Top Headlines
Date:
October 21, 2008
Contact:
doran@andrews.edu
Website:
Phone: 269-471-3470
On Monday, Oct. 20, the Andrews University Counseling & Testing Center sponsored a Wellness Fair for students and community members alike. Held in the Campus Center lobby, the event kicked-off the beginning of a weeklong wellness program designed to show students how to maintain happiness and health. From 11 a.m. until 2 p.m., booths and demonstrations were employed to show students that "being physically fit is just a small portion of the importance of wellness."

Various on- and off-campus supporters came out to promote the fair including Caitlin's Catering, Apple Valley Plaza, Campus Ministries, Lakeland Hospital, Student Financial Services, Lamson Health Club and the Village Green Preservation Society, to name a few.
Upon participation, students were excited to collect information and pamphlets, win prizes through random drawings, and receive free apples and goodie bags. Many were also grateful for the co-curricular chapel credit offered for attending. What really drew in the crowd, however, were the various tests and demonstrations.

For example, the Department of Nutrition and Wellness sponsored a fitness and exercise studies booth where students had the opportunity to test their endurance skills. Those who participated had the option of doing 50 crunches on an exercise ball, perform as many push-ups as possible, survive a three-minute step-test, jump rope or try their coordination by juggling three balls at a time. Exercise resistance bands were given to those who could complete three of the above tasks.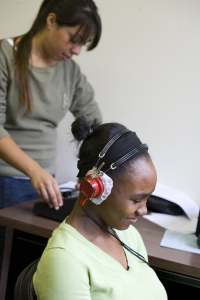 Another favorite trial was the D.A.R.E. (Drug Abuse Resistance Education) demonstration. Participants were given goggles, simulating the vision of a drunk driver, and asked to walk across a blue piece of tape lining the floor. The tape was nearly nine paces long and proved to be a lot harder of a test than most would think.

"It [the D.A.R.E. test] gave me a headache!" said Nik Moushon, architecture major, after attempting to walk straight. "I felt so wobbly!"

Other tests were less exhausting. Mental health screenings were given by the Counseling & Testing Center, vital screens by the Department of Nursing and hearing screens by the Department of Speech-Language Pathology and Audiology (SPLAD).

"Our booth is about the importance of protecting your hearing," explained Darah Regal, assistant professor of audiology. "We've had two or three students who failed their hearing screens and now we are referring them for further testing. They had no idea their hearing was bad! This is a good way for them to catch it early, before it gets worse."

Although most booths appealed to various students on campus, there seemed to be two that specifically attracted the attention of female students on campus: Mary Kay Skin Care/Makeup and True Color Hair Studio. Some brave male students, however, wanted more information.

"The True Color Hair Studio booth really clenched my longing for information about my golden locks," claimed Jordan Reichert, undeclared major. Besides learning new things, he seemed happy enough to receive a sample-size pack of hair pomade and some free candy.

The fair was designed to bring many different ideas together, attempting to reach the ultimate goal: health and happiness.

"It [the fair] is also meant to help prevent crimes on campus like the events that happened at Virginia Tech," stated Deanna Doran, Wellness intern and coordinator of wellness events on campus. "Ours is not your typical Wellness Fair. It shows a lot of different aspects involved in becoming a happy, healthy college student, including finances, hearing, even how your hair looks and other little things that can really make a difference."

The fair was a great beginning for the rest of Wellness Week, which will include Tuesday Assembly/Co-Curricular choices reflecting mental and physical wellness. There will also be dorm worship opportunities, presented by counselors from the Counseling & Testing Center, in the Lamson Hall Chapel. All students and community members are invited to attend.

For more information regarding Wellness Week, please contact Deanna Doran at doran@andrews.edu or call 269-471-3470.

-Written by Ashleigh Jardine, student news writer, Office of Integrated Marketing & Communication