Blood Drive Exceeds Goal
Top Headlines
Date:
November 3, 2008
Contact:
Website:
www.redcrossmichigan.org
Phone: 1-800-GIVE-LIFE
"This is my sixth time donating blood. The importance of learning to give is a life-changing lesson to learn," reflected Ashley Goddard, pre-veterinary major, on her past experiences donating blood.

On Tuesday, Oct. 28, the biannual American Red Cross Blood Drive opened its doors to donors between 9 a.m. and 8:45 p.m. Faculty, students and community members lined up in the basement of Pioneer Memorial Church to donate with the hope that each visit could save up to three lives.

Upon arrival, donors were asked to read through certain safety precautions, answer key questions to ensure the usability of their blood and "take a number" in the waiting area. When called upon, they were then ushered off to donate a pint of blood in a matter of five to 10 minutes.

"I felt a little nervous before I donated, but I was determined to save lives!" said Rebecca Perry, pre-physical therapy major and a first-time blood donor. "Afterward, I felt really good about what I had done. I'm definitely going to do it again."

The Great Lakes Region of the American Red Cross, the organization in charge of the Andrews University Blood Drive, collects blood from donors in 60 counties across Michigan. It is an independent, volunteer-led organization aiding nearly five million people who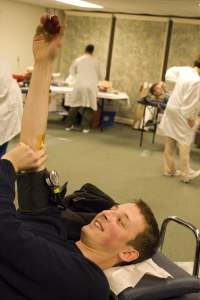 receive blood transfusions each year. Reinforcing the fact that "donors are heroes" and "giving is the right thing to do" are just a few reasons why the Red Cross has staff working 24 hours a day, seven days a week.

The all-day event drew in 141 donors to support the Andrews University blood drive. Of those, 89 were proudly adorned with red and white "First-time Blood Donor" stickers. There were even four brave supporters who contributed "double reds": donating two units of red blood cells in just one visit. They may have helped save twice as many people.

Besides donors, there were also many volunteers who helped make the blood drive possible. Student helpers were at the door, welcoming participants and setting up walk-in appointments for those who were not registered. Others passed out juice and water, while some kept up the fresh supply of cookies, sandwiches, veggies and fruit provided to build up the weakened donors. Whether students were there to give blood for the first time, volunteer or support dizzy friends, all were supporting the gift of life.

The goal for total amount of donated blood was set at 100 units. By the end of the day, the Andrews University blood drive exceeded their goal by giving 122 units.

For more information on how you can become a blood donor, visit www.givelife.org, www.redcrossmichigan.org or call 1-800-GIVE-LIFE.
-Written by Ashleigh Jardine, student news writer, Office of Integrated Marketing & Communication