Reflecting on the Arts
Top Headlines
Date:
November 3, 2008
Contact:
english@andrews.edu
Website:
Phone: 269-471-3298
Remembering an Andrews University scholar by reflecting on the arts was the goal of the evening as nearly 100 people met in the Seminary Chapel at the Andrews University Seventh-day Adventist Theological Seminary for the first annual John O. Waller Lectureship on the Arts.

The mixed assembly of students, faculty and friends was formally welcomed shortly after 7:30 p.m. by Department of English chair, Douglas Jones. Jones expressed excitement that a commemorative lectureship for John O. Waller was finally established and noted that the English department had wanted to put together a series in his honor for several years. Delmer Davis, emeritus professor of English, presented Waller's life and accomplishments to the crowd through a biographical reading. For many faculty in attendance, the words better served as a reintroduction of an old friend—someone who was both scholarly and approachable, a man who was both Dr. Waller and "Jack."

Waller chaired the Andrews University Department of English from 1963 to 1979. He was awarded his doctorate in 1954. An active scholar who devoted time to scholarly research, he was published and referenced in scholarly articles. Waller was cited as being remembered by students for reading poetry aloud in class with passion and applying the same zeal when reading their poetic contributions.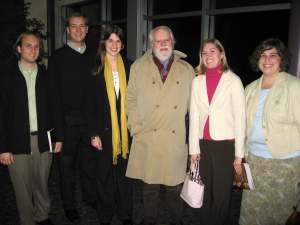 Waller's widow, Elaine, worked with Andrews University to help endow the John O. Waller Lectureship on the Arts. She was also present for the event. Davis embraced the event stating, "A lectureship on the arts in his honor is a worthy and fitting tribute." The lectureship was intentionally planned for Oct. 28, the day before the anniversary of Waller's birthday.

After commemorations, F. Estella Greig, professor emeritus of English, introduced the guest speaker, former Andrews University teacher William S. Peterson, professor emeritus of English at the University of Maryland. Peterson was a student of Waller's at Walla Walla College and a long-time friend. He recalled first seeing Waller in a "cramped little office on a hot day in Washington," and described being received with acceptance and tenderness. "He received my immature comments with a gravity they were not worthy of," remembered Peterson. He later added to an audience chuckle, "All of his students knew of his immoderate love of cats."

Peterson's lecture was entitled, "William Morris's Pocket Cathedral: The Kelmscott Press Chaucer." The presentation was an exploration of the publication process and artistic expression of Chaucer, an 1896 product of William Morris' Kelmscott Press. Peterson carefully outlined the precision, intent and conflicts which arose in the making of what has been hailed as a masterpiece of book production and the zenith of private press publishing. Peterson also took time between hard scholarly analyses to humor the audience with the more casual elements of Chaucer. He noted Morris' exactness on what the aesthetical layout should be for book margins. Morris thought the largest margin should be at the bottom of the pages and room should especially be made for the reader's thumbs to rest without blocking words. The thought-provoking, engaging and much appreciated lecture concluded to sturdy applause. All were invited to enjoy refreshments afterwards.
-Written by Andre Weston, student news writer, Office of Integrated Marketing & Communication