Textbooks Going Paperless
Top Headlines
Date:
February 11, 2009
Contact:
swansonc@andrews.edu
Website:
http://bookstore.andrews.edu
Phone: 269-471-6095
For students at Andrews University, the catch phrase "going green" carries significant meaning. Student-led groups such as the Village Green Preservation Society and ACTION encourage students to become more earth-friendly. LithoTech, the printer and copy shop in Harrigan Hall, makes recycling convenient. Earth Day events and other projects also serve as eco-friendly reminders. But what if Andrews could do more? What if students could become a tree's best friend every time they bought a new schoolbook?
Cindy Swanson, Andrews University textbook manager, is pioneering the use of Universal Digital Textbooks (UDTs), or "e-books." In October 2008, Swanson attended a training seminar and learned of the new technology. Convinced of the environmental benefits and student advantages, she has worked on the project ever since. Beginning with the fall 2009 semester, some required class textbooks will be available as UDTs. The eco-friendly concept, Swanson says, is quickly becoming the "new wave of the future."
How do e-books work? Students can purchase activation cards at the Andrews University Bookstore. The receipt contains an access code to view online PDF textbooks. Simply put, students will be able to read class material online instead of buying actual textbooks.
The e-books are very earth- and user-friendly. Notes, commenting tools, keyword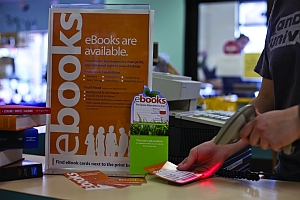 searching and layout options are just a few of the features included. What's more, the e-books cost roughly the same as a used book of the same title. This will save the students' money and also prevent shipping expenses, which, Swanson estimates, can cost up to $25,000 a year. More importantly, the pollution associated with shipping would be significantly reduced. UDTs are considered "the green alternative to printing." They require no paper or ink, no trees to be destroyed, no environmental stress and don't have to be shipped with paper packaging. With e-books, rush reorders are eliminated, and students would never have to worry about textbooks being out of stock. Also, new updates and additions to textbooks are downloadable free of charge.
Swanson says, "I don't foresee a day of no textbooks. Right now, I just want to try this and see how it goes. I know there may be some problems, but we will deal with them when they come."
VitalSource, the program used to download the material, is compatible with laptops, desktop computers and even the iPhone. It currently offers about 3,900 e-book titles, and the numbers continue to rise.
Andrews is not the only institution to offer UDTs. Many other colleges are beginning "e-book experiments" as well. Cambridge College in Massachusetts provides students with access to hundreds of online schoolbooks. Northwest Missouri State University has also been considering a move to go paperless for months. Experts estimate that it would take up to three years for the campus to become completely book-free, but by using the UDTs, students can save trees and money.
"For students to be successful, we must give them all of the resources possible," says Swanson. "We are here for their success, and we have to do everything we can to provide them with the right tools to achieve their goals."
-Written by Ashleigh Jardine, student news writer, Office of Integrated Marketing & Communication