King's Singers in Concert
Top Headlines
Date:
February 3, 2009
Contact:
hpac@andrews.edu
Website:
Phone: 269-471-3560
In celebration of the ensemble's 40-year anniversary, the King's Singers will perform a special President's Day concert on Monday, Feb. 16, 2009, at 7 p.m. in the Howard Performing Arts Center at Andrews University in Berrien Springs, Mich.
The King's Singers are sure to charm you with their unparalleled musicianship. They don't hesitate to try different styles of music. In fact, it was once suggested that they use two names—King's Singers for serious repertoire and King's Swingers for their pop music. They regularly perform an encompassing range of music from medieval to Renaissance, folk to pop. They've performed in historical and renowned venues around the world, such as cathedrals and palaces, and have collaborated with many world famous orchestras. In a season, they regularly perform over 100 concerts.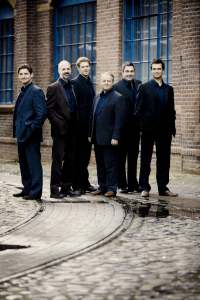 This 6-member group of male vocalists originated in 1965. The name King's Singers comes from King's College Cambridge, where the singers first met and studied together.
The King's Singers enjoyment and commitment to music is evident in their blending, balancing and control of intonation while they perform together. They've held Prince Consort Ensemble-in-Residence at the Royal College of Music, London, for 10 years.
Their latest album,
Landscape and Time
, has been described as having a "singing of rare distinction" and "stunningly high musical standards." When counting their albums along with the many collaboration albums they are a part of, the King's Singers have an impressive discography of nearly 100 albums. The group has teamed-up with Kiri te Kanawa, Emanuel Ax, George Shearing, Evelyn Glennie, and Bruce Johnston of the Beach Boys.
London Times
said it best: "The King's Singers are still unmatched for their musicality and sheer ability to entertain."
Tickets can be purchased by calling the Howard Performing Arts Center box office at 269.471.3560. General admission tickets are $35 and Andrews University students are $10. Special rates apply for groups and Flex Series tickets.