LaBianca Elected to Post at ASOR
Top Headlines
Date:
March 9, 2009
Contact:
hornmuseum@andrews.edu
Website:
Phone: 269-471-3273
Øystein S. LaBianca, professor of anthropology in the Department of Behavioral Sciences and associate director of the Institute of Archaeology at Andrews University, was recently elected to serve as vice president for Archaeological Research and Policy (CAP) at the American Schools of Oriental Research (ASOR).

ASOR is a non-profit organization dedicated to the archaeology and history of the Near East. It is one of the world's largest scholarly associations serving anthropologists, archaeologists, epigraphers and historians doing research on the history of cultures and civilizations of present-day Cyprus, Egypt, Iraq, Israel, Lebanon, Jordan, Palestinian Authority, Turkey, Saudi Arabia and Syria. Its membership is made up of 1300 individual programs and exhibits, as well as three overseas research institutes. Founded in 1900, the organization's mission is to initiate, encourage and support research and public understanding of the peoples and cultures of the Near East from the earliest times to the present.

Andrews University's Institute of Archaeology is a long-standing institutional member of ASOR. LaBianca, who became a professor at Andrews in 1980, has devoted his career as an anthropological archaeologist to developing study methods of long-term changes in the lives of the inhabitants of Jordan. He is currently senior director of the Tall Hisban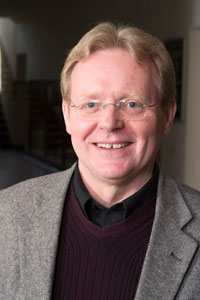 Excavations, co-director of the Madaba Plains Project, Jordan, and a member of the Board of Trustees of ASOR and the American Center for Oriental Research in Amman (ACOR). His research has been financially supported by Andrews University's College of Arts and Sciences, the National Geographic Society, the National Endowment for the Humanities and the Norwegian Research Council.

As the new vice president of CAP, LaBianca will be responsible for convening and administering the work of a committee of 16 senior ASOR scholars who annually review and approve nearly 60 ASOR affiliated archaeological research projects. His goal is to bring coordination and cooperation among projects to a new level on four closely related fronts, including: 1) development and testing of theoretical frameworks that bridge disciplinary, temporal and national boundaries in order to gain understanding and facilitate cooperative research on long-term historical processes in the Ancient Near East; 2) development and testing of cyber technologies for field-based and laboratory based data acquisition, recording, quality control, analysis and dissemination; 3) development and dissemination of best practices for sustainable site management, preservation and presentation; and 4) development of capacity within ASOR field projects for successful competition for funding of large-scale international research projects.
-Written by Ashleigh Jardine, student news writer, Office of Integrated Marketing & Communication