6th Annual Easter Passion Play
Top Headlines
Date:
March 30, 2009
Contact:
passionplay@andrews.edu
Website:
www.passionplay.andrews.edu
Phone: 269-471-8360
Easter celebrations have never been more life-changing. Join Andrews University for the sixth annual Easter Passion Play on Saturday, April 11, for the experience of a lifetime: an interactive indoor/outdoor walk-through play depicting the Passion of Christ.
Visitors will step back in time as they experience the sights, sounds, tastes and smells of the ancient Middle East during the time of Christ. Crowd-favorites include a marketplace setting with live animals, shops and food samples. Each rotation will travel to seven scenes across the campus of Andrews University, literally following in the footsteps of Christ during the hours leading up to and including his crucifixion. The event culminates with a spiritually inspiring indoor resurrection scene. Visitors are invited to stop by the Hospitality Center following the play for hot or cold drinks, a chance to pray with a volunteer and a special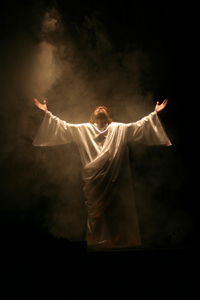 Kid's Corner.
First held in 2003, the Easter Passion Play was created under the direction of Pastor Ron Whitehead, executive director of the Center for Youth Evangelism at the Andrews University Seventh-day Adventist Theological Seminary. With the help of hundreds of community and University volunteers, the event ministers to thousands of visitors each year. Richard Parke, who graduated from Andrews University in 2005, is this year's event director.
Performances will take place in 30-minute increments. The first rotation begins at 9 a.m. and the last at 6 p.m., with Spanish showings at 3 and 5:30 p.m. The event is free-of-charge, but reservations are required. The event is handicapped accessible and strollers are recommended. To place an online reservation or to learn more about the event, visit
www.passionplay.andrews.edu
or call 269-471-8360.