2009 Faculty and Staff Awards Presented
Top Headlines
Date:
March 9, 2009
Contact:
pr@andrews.edu
Website:
Phone: 269-471-3322
The 2009 Faculty & Staff Service Awards Presentation took place Monday, March 2, at 7 p.m. in the Howard Performing Arts Center. Hors d'oeuvres were served prior to the program in the sleekly-decorated Howard Lobby, complete with a six-foot ice sculpture of the Andrews University logo. Historical photos and artifacts were on display, highlighting the theme of the evening - "Celebrate God's Faithfulness." Attendees got a rare look at a section of Option Elm, the tree Farmer Garland stood underneath when he sold the property to Percy Megan and E.A. Sutherland.
Gerry Karst, chair of the Andrews University Board of Trustees, introduced the theme by relating his personal life story of God's leading. Interspersed throughout the award presentations were vignettes on God's Guidance (Ron Knott), God's Providence (Don Murray), God's Protection (Ann-Marie Jones) and God's Support (Keith Mattingly).
Excellence in Service Award Recipients
Three staff members were honored with Excellence in Service Awards. Dixie Scott, admissions director for the Department of Physical Therapy; Esther Lonto, senior accountant for the Office of Financial Records; and Rebecca May, director of campus relations for the Office of Integrated Marketing & Communication. The award is given in recognition of outstanding service to the university, the church, and the community, and for demonstrating, by precept and example, a Christ-centered life.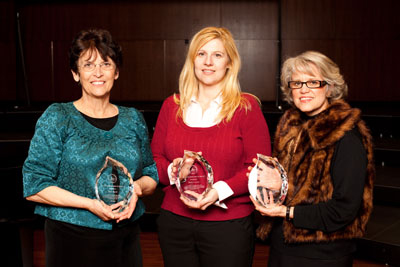 Daniel A. Augsburger Excellence in Teaching Award
Seven faculty members were honored with the Daniel A. Augsburger Excellence in Teaching Award. This award recognizes faculty whose teaching reflects the high standards of excellence modeled by Dr. Augsburger in his 60 years of teaching at Andrews University. Augsburger's leadership, academic rigor, breadth of knowledge, teacher-scholar role, along with care and concern for students, exemplify the best of faculty endeavors. Faculty from each school nominates and chooses their individual candidates. This year's recipients were: John Baldwin, professor of theology, Seventh-day Adventist Theological Seminary; Elvin Gabriel, associate professor of educational and counseling psychology, School of Education; Ann Gibson, professor of accounting, School of Business Administration; H. Thomas Goodwin, professor of paleobiology, College of Arts & Sciences; Duane Habenicht, associate professor of aeronautical technology, College of Technology; Kristin von Maur, assistant professor of architecture, School of Architecture; and Susan Zork, assistant professor of religion, College of Arts & Sciences.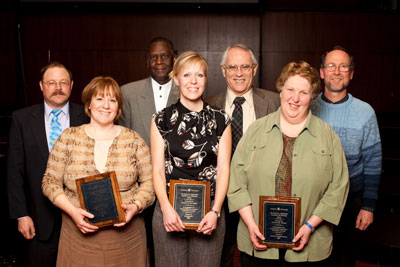 Two long-time professors were paid tribute in preparation for their upcoming retirements: G. William Mutch and Peter Wong.
Since 1973 G. William Mutch has been a staple in the Andrews University community. After earning his PhD at the University of California-Davis, he began teaching in the Department of Chemistry & Biochemistry. He is known for always pushing his students toward excellence and has often been heard to say, '"We must push back the frontiers of ignorance." In 1992, Mutch received the Thomas and Violet Zapara Award for Excellence in Teaching Science, and the AUSA recognized him as Teacher of the Year in 2000. He received the John Nevins Andrews Medallion in 2004, and acted as Grand Marshal during graduation ceremonies from 1998 to 2008. His "open door" policy led many to seek his advice. As a result, he was honored as Advisor of the Year in 1991. Mutch became the AUSA faculty advisor in 1983, a position he holds to this day. In honor of his contributions, the Student Association dedicated an area in the basement of the Campus Center as the G.W. Mutch Recreation Center. Mutch has also made many contributions to the academic world outside of Andrews.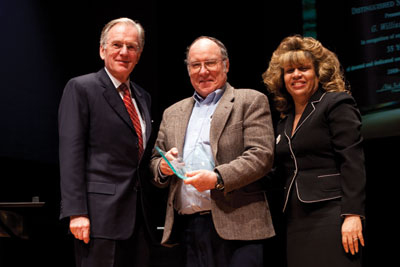 In 1969 Peter Wong was invited to join the Andrews University Department of Chemistry & Biochemistry. Wong began teaching Nuclear Chemistry, Physical Chemistry, Instrumental Analysis, Advanced Topics in Physical Chemistryand Statistical Thermodynamics, and later added Introductory Chemistry, Consumer Chemistry and Scientific Inquiry. He has served as co­sponsor and then sponsor of the Chinese Club. Not too many years ago, a class of chemistry majors playfully gave Wong a nickname. It reflects the speed at which physical chemistry is presented...the name? "Wongzalez." The nickname also reflects the affection with which students hold Wong. He makes the difficult bearable by his good teaching and his good spirits. And it doesn't matter the level of the class, Wong always make it interesting.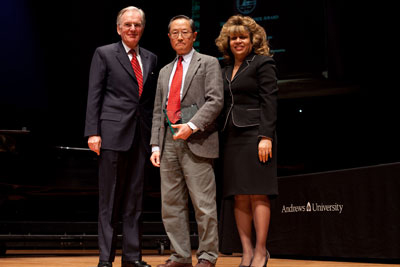 Three individuals were recognized with 30 Years of Service Awards: (left to right) Keith Calkins, Bruce Closser and Marge Gadway.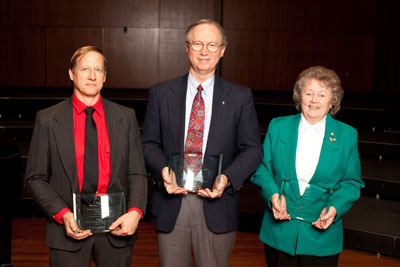 Through a continual process of education over a period of about 30 years, Keith Calkins earned bachelor's degrees in both mathematics and physics, four master's degrees in computer information science, physics, interdisciplinary studies in mathematics & physics, and secondary education, and a PhD in physics. With expert engineering skills, Calkins played a big role in providing mainframe computing services to the campus for 15 years. Calkins has applied his usual level of dedication and creativity to his teaching career and has inspired some of Berrien County's brightest high school students at the Math & Science Center.
Bruce Closser, associate professor of English, has occupied the same office in Nethery Hall since 1978. In this small space, Closser has made a big difference on campus. He has held countless writing conferences with his students, answered thousands of phone calls, and planned more class presentations than can be listed. He serves as Director of the Writing Center, coordinating a team of student mentors who learn from his leading. Closser is an active presenter at professional and scholarly conferences. In addition to his scholarly pursuits, Closser has an artistic side. Over the years he has been involved in the Early Music Ensemble, playing the bass recorder, and directing and producing several dramatic works on the Andrews stage.
Marge Gadway, a building supervisor for the Office of Custodial Services, came to Andrews University back in 1978. She met with Bob Robinson, then director of human resources, and he told her there would soon be an opening for a supervisor at Custodial. Marge said she did not think she would be able to supervise. He told her to go talk to Mr. Oetman. When Gadway told Mr. Oetman she wasn't sure of her ability to supervise he asked if she was a mother. When Gadway answered, "yes," he told her she could do it. Gadway has reached retirement age and "a little beyond," but continues to serve Andrews University because she enjoys her work and all the students, faculty and staff she interacts with.
35 Years of Service Award Recipient
As the longest-serving professor in the School of Education's Department of Educational & Counseling Psychology, Rick Kosinski, professor of educational and counseling psychology, has dedicated his time, teaching skills and humble service to the students of Andrews University for 35 years. His experience as the president and past president of the local Berrien/Cass Counseling Association has established his reputation in counseling circles across the state. He is a member of the American Counseling Association and the American Psychological Association and has written articles for multiple scholarly journals.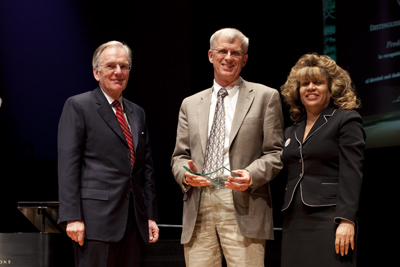 40 Years of Service Award Recipient
For 40 years, Bill Chobotar, professor of biology, has poured himself out in unselfish Christ-like service to others on this campus. Appointed to the biology faculty in 1968 with a freshly minted PhD from Utah State University, he has since received more than 30 honors and awards including a predoctoral fellowship from the National Institute of Health. Former students have gone on in their scientific careers and have named two newly discovered parasites in his honor: Eimeria chobotari and Isospora chobotari. For many years Chobotar has regularly served more than 100 advisees every term.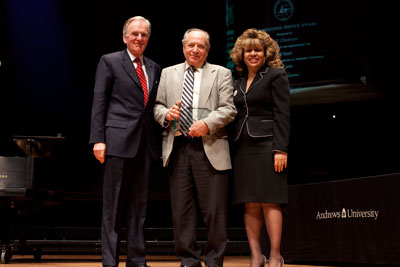 Spiritual Life Award
June Madrigal was honored with the Spiritual Life Award for her significant contribution to the spiritual life of campus. Madrigal joined the women's residence hall team as an associate dean in July 2006. Madrigal has made an indelible impact on the program of Lamson Hall. Her own personal relationship with Jesus is clearly evident as one speaks with her, as she calls those around her to live for Jesus—to walk the walk in every aspect of their lives. Madrigal started the Pray it Forward campaign and meets with students monthly in a program called Third Thursdays during which the group encourages one another to give up something that has gotten in the way of their relationship with Jesus.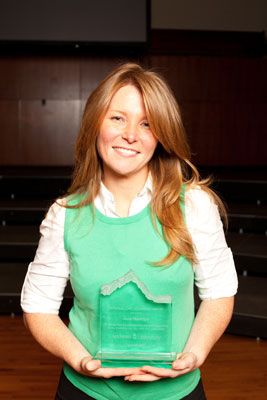 Following his closing thoughts, President Niels-Erik Andreasen and his wife, Demetra, were taken by surprise as recipients of an unannounced award. Gerry Karst, chair of the Andrews University Board of Trustees, presented an award for reaching the milestone of "the longest-serving president" of Andrews University. The Andreasens were given a gift certificate to the Chicago Symphony and a globe with the inscription "Andrews University congratulates Niels-Erik Andreasen as our longest-serving president. Presented March 2009."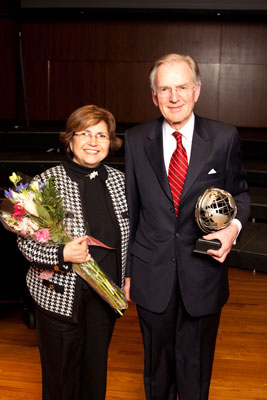 Stephen Zork led the audience in the singing of Great is Thy Faithfulness, followed by Don Livesay, newly-elected president of the Lake Union Conference of Seventh-day Adventists, who concluded the program with a prayer of thanksgiving. A dessert bar capped the memorable event.
The awards portion of the evening also included recognition of employees with 5, 10, 15, 20 and 25 years of service with the University.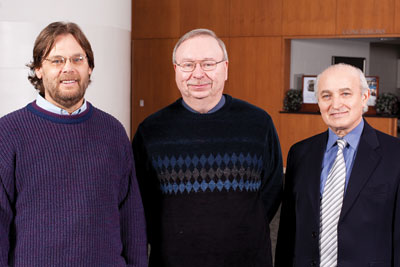 25 Years of Service
Left to right: John Banks, Gary Williams, Miroslav Kis
Not pictured: Brian Strayer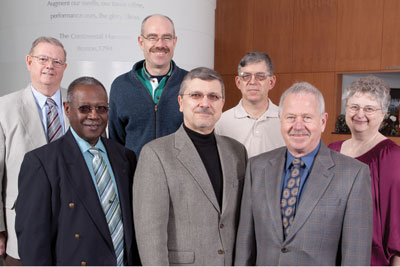 20 Years of Service
Left to right: Thomas Chittick, James North, Scott Moncrieff, Rudolf Maier,
Ronald Norton, Albert McMullen, Derri Hanson
Not pictured: Nancy Carbonell, Ginger Ellison, Nancy Nelson, Susan Schwab, Jeff Trubey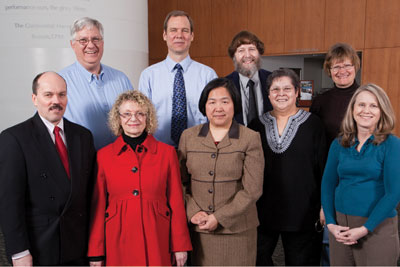 15 Years of Service
Front Row, Left to right: Wayne Perry, Susan Oliver, Xiaoming Xu,
Mabel Bowen, Patricia Spangler
Back Row, Left to right: Walter Bowen, Steven Nash, Paul Ray, Denise Collard
Not pictured: Kathleen Allen, Spencer Carter, Lilianne Doukhan, Denis Fortin,
Savka Markovic, Arlene Saliba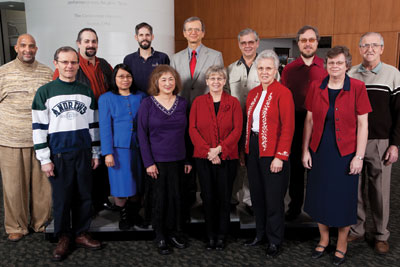 10 Years of Service
Front Row, Left to right: Roberto Rothermel, Annabelle Lopez, Gyl Bateman,
Sylvia Gonzalez, Shirley Lehmann, Helen Susens
Back Row, Left to right: Timothy Nixon, Fred Guerrero, John Beal, Jiri Moskala,
John Matthews, Gary Burdick, Walter Burn
Not pictured: Karen Allen, Bradley Christensen, Samuel Kim Chuah, Marilyn Craig, Terrence Dodge, Carlos Flores, Cynthia Gammon, Betty Gibson, Robert Mason, Sharon Prest Ullom, Teresa Reeve, Mary Nell Rosenboom, Steve Sowder, Tamargo Urias, Dennis Waite, Jacquelyn Warwick, Steve Yeagley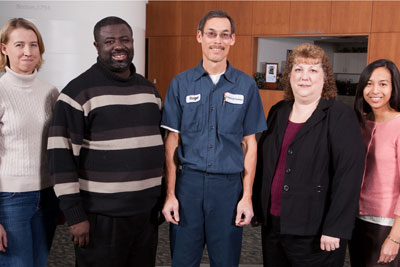 5 Years of Service
Left to right: Jennifer Birney, Oliver Davis, Roger Lee, Cynthia Swanson,
Aimee Vitangcol Regoso.
Not pictured: Harvey Burnett, Ronald Coffen, Paul Gregor, Heidi Labbe, Deborah Park, Jerrett Pate, Martin Smith, Andrew von Maur, Kristin von Maur