VGPS Install Recycling Bins
Top Headlines
Date:
March 3, 2009
Contact:
beno@andrews.edu
Website:
Phone:
Recycling on campus is about to get easier thanks to grant from the Berrien County Resource Recovery (BCRR) office. In December 2008, Andrews University was awarded a $1,815 grant by the BCRR, a grant in excess of the typical $1,500 amount, to improve the recycling facilities on campus. Members of the Village Green Preservation Society wrote the grant proposal, which will fund the installation of recycling bins in Meier, Burman, and Lamson residence halls. Heather Knight, provost, agreed to match the funds.
Ben Oliver, president of the VGPS, says, "The dormitories are one of the greatest nuclei of the campus. We hope recycling there will empower community individuals in the community and other departments on campus to follow that example."
Tom Goodwin, professor of biology and VGPS sponsor, says Reliable Disposal, the company responsible for collecting Andrews University's waste, recycles recyclable items that are clearly separated from trash. If recycling is mixed with trash, however, it goes straight to the trash pile. As the necessary separation has yet to be institutionalized across campus, the installment of recycling bins in the residence halls represents an important step towards environmental responsibility at Andrews University.
Oliver says many students are already used to recycling in their home towns and neighborhoods. "This program will allow them and all others to really behold the University's newfound vision to be stewards of our borrowed Earth. But what is invaluable is the reform of habits and thoughtfulness to recycle, and hopefully the desire for Andrews students to continue their new custom wherever they go," he says.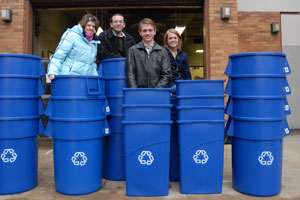 While funding and equipment is crucial to move the campus toward being more environmentally efficient and responsible, it is only a part of the equation. That's why the VGPS seeks to educate students and faculty about best practices for keeping the environment clean. Through student assemblies, co-curricular choices, the distribution of pamphlets and group meetings, the VGPS hopes to create an ethic of recycling and reusing that increases "green" awareness and leads to more "green" actions.
While the first priority for the VGPS is instituting this new recycling initiative, club leaders are also focused on the continuance of the club. With many club leaders graduating in May, they are turning to fun and educational activities to recruit others to join the cause and carry on the club's mission.
"We plan on partnering with Mosaic to bring AU a "green" version of the Mosaic cafe, where we'll play a documentary on an environmental theme, have green crafts, open mic and no Styrofoam!" says Oliver.
"I'm pleased to see movement on campus to line up practical considerations with what we believe as Christians," says Goodwin. "Hopefully we can sustain it."
The club is also planning now for Earth Week (April 19-25). The week will feature a series of activities, programs and a rally aimed to get students involved.