Andrews Hosts ASDAL
Top Headlines
Date:
July 1, 2009
Contact:
Website:
http://www.asdal.org
Phone:
The 29th Annual Conference of the Association of Seventh-day Adventist Librarians (ASDAL) was held at Andrews University on June 20–25, 2009. The conference, "Partnering through Mentoring, Leadership and Research," drew international attendees representing libraries in Canada, the Philippines, South Africa, Jamaica, Mexico and Nigeria. The highlight of this conference was the approval of
Adventist Resources2.0
, a comprehensive one-stop Internet clearinghouse for resources about Seventh-day Adventists. The conference was coordinated by Josip Mocnik from Southern Adventist University, who is conference chair and president-elect of the Association of Seventh-day Adventist Librarians, and Cynthia Mae Helms, the onsite conference coordinator from Andrews University.
Adventist Resources2.0
will provide full-text access to resources about Seventh-day Adventist beliefs, history, practices and lifestyle along with resources for nurturing spirituality and church growth. It will aid in the training and development of church pastors, leaders and laity around the world by providing access to a range of practical and scholarly works in the area of theological and pastoral education.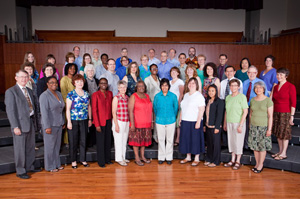 Larry Hardesty, founding director of the College Library Directors' Mentor Program, was the keynote speaker. Hardesty served as the president of the Association of College and Research Libraries and received the ACRL Academic Research Librarian of the Year Award. His keynote, "Pass It On: Mentoring via the College Library Directors' Mentoring Program," overviewed the mentoring program. Now in its 18th year, the program has matched mentors and mentees from 43 states. "There have been 257 first-year college library directors representing 223 institutions of higher education participating in the program," said Hardesty. He has had five Seventh-day Adventist librarians participate in the mentoring program as mentees and one of them as also served as a mentor. They are Cristina Thomsen, Southwestern Adventist University; Josip Mocnik, Southern Adventist University; Lee Wisel, Columbia Union College; Margaret von Hake, Columbia Union College; and Adu Worku, Pacific Union College.
Although Hardesty has worked with Adventist librarians in his program, this is the first time he has visited a Seventh-day Adventist university. "He was impressed with our campus, particularly the lawns and the flowers," recalls Helms.
Workshops and presentations were given by an array of attendees. First-time attendee Nicola Palmer from Northern Caribbean University, Jamaica, said this conference was "a wonderful opportunity" to present her paper, "The Role of the Christian Librarian in Postmodern Academia." Other international presenters were Yvette Sparrow from Helderberg College, South Africa, who talked about how she collected data for writing a book on the history of Helderberg Primary School; and Uloma Doris Onuoha from Babcock University, Nigeria, who presented a paper written by herself and Yacob Haliso on the mentoring practices in selected university libraries in Nigeria.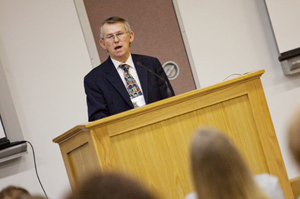 Interestingly, although Haliso was unable to attend, his former mentor, Cynthia Helms, presented his paper, "Factors Affecting Information and Communication Technologies Use of Academic Librarians in Southwestern Nigeria: the Leadership Role of Babcock University, Nigeria." Helms was Halisco's supervisor at Ethiopian Adventist College when she was head librarian and he was a student worker. Haliso eventually became assistant librarian, then head librarian of the college. He pursued a master's and Ph.D. in library science. Now, 20 years later, as head of the Department of Information Resources at Babcock University, Nigeria, the impact of that mentoring relationship is coming to fruition.
Several presentations addressed the three aspects of the theme: mentoring, leadership and research. Carlene Drake of Loma Linda University spoke about determining the worth of libraries; Terry Robertson and Lauren Matacio, both from Andrews University, presented their study on the correlation between library anxiety and information literacy; Warren Johns of Loma Linda University talked about finding free online Adventist books; Felipe Tan of Andrews University shared his mentoring experience at the James White Library; Steve Sowder of Andrews University demonstrated using Google Analytics to find demographics of a Web site; and Genevieve Cottrell, Stanley Cottrell and Marge Seifert, all from Southern Adventist University, discussed the concept of team leadership as applied at Southern's McKee Library.
The conference provided various venues of learning and sharing through pre-conferences presentations, breakout sessions, poster sessions, book displays and a chance to visit with local authors and see their works. Attendees also had the opportunity to visit the Horn Archaeological Museum on the campus of Andrews University; the Gerald Ford Museum, Frederik Meijer Gardens and Sculpture Park, and the Grand Rapids Public Library, all located in Grand Rapids, Mich., and the Adventist Historical Village in Battle Creek, Mich.
ASDAL continues to contribute to the Adventist church through the "Adventists and Ellen White Classification Scheme" (based on the Library of Congress Classification Scheme), the Seventh-day Adventist Periodical Index and the Obituary Index. ASDAL facilitates discounted database subscriptions for Adventist institutions domestically and internationally through the ALICE Consortium (Adventist Library Information Cooperative). The Association offers the D. Glenn Hilts Scholarship to Adventists who have been accepted into graduate library school and who expect to study for one full academic year on a full-time basis. Learn more about the association at
www.asdal.org
.