Women's Housing
Top Headlines
Date:
July 13, 2009
Contact:
housing@andrews.edu
Website:
www.andrews.edu/housing/
Phone: 269-471-6979
The past school year saw a record-high enrollment. While this is a blessing, it brings some challenges for housing our single female students who desire residence-hall accommodations.
Capacity planning efforts with the Division of Student Life, Lamson Hall and the Office of Family & Graduate Housing have been undertaken to prepare for yet another projected enrollment increase. Ten University-owned houses within walking distance of campus have been reserved and are being prepared to house some 50 single female students. These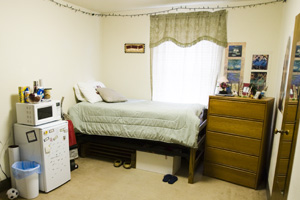 students will be over 22 years of age and interested in residing in Lamson Hall, but cannot due to space limitations. This extended housing option is open to both undergraduate and graduate female students who are 22 years of age or older. These ten homes are under the management of the Office of Family & Graduate Housing. Similar to students residing in the Family & Graduate Housing units and in the community, residents of these homes will experience more independent living, however they are expected to uphold all University Community Values and the Code of Student Conduct.
Questions and prospective applicants for this extended housing option may contact the Office of Family & Graduate Housing at 269-471-6979 or the Graduade Enrollment Coordinator, Lizzy Salazar at 269-471-6013.
Enrollment projections indicate Meier and Burman Halls will continue to provide sufficient living space for our single undergraduate and graduate men who wish to live in a residence hall.
Family & Graduate Housing is projected to be at full capacity as well. Graduate students have the option to consider off-campus, community housing options.
Additional Information
Landlords and realtors in the Berrien Springs area