FFH Returns to the Stage
Top Headlines
Date:
October 5, 2009
Contact:
hpac@andrews.edu
Website:
Phone: 269-471-3560
After a two year hiatus, the widely popular Christian group FFH is performing at the Howard Performing Arts Center on Saturday, October 17, 2009 at 8 p.m.
Songs such as "One of These Days," "Fly Away," and "You Found Me" are some of the #1 songs that put FFH, which stands for Far From Home, on the radar of the Christian music scene. They've sold over 1.5 million albums and have been featured in numerous publications including CCM Magazine, Brio and Christianity Today. FFH released their last album in 2007, Worship in the Waiting. Other recording projects are in the works with plans for a Christmas album in the fall of 2010.
The Dove Award winning group is comprised of four members: Brian Smith, Jennifer Deibler, Jeromy Deibler and Michael Boggs. In March 2006, after more than 10 years as a successful, touring Christian band, the group decided it was time to take a break. At that time, Jennifer and Jeromy Deibler, FFH's co-founders, spent six months in Africa training musicians and mentoring worship leaders a small church just south of Cape Town. "Our time in Africa was life-changing… we had a lot of time to think and process life and what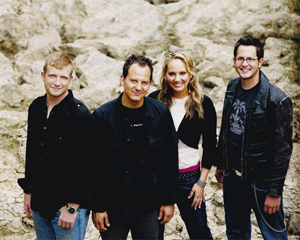 we'd been through." Their return to the states in 2007 was bittersweet. Jennifer found out she was expecting their second child shortly before they returned to the U.S., but later that fall, Jeromy was diagnosed with Multiple Sclerosis.
In the summer of 2008, Jeromy finished his treatment and the group decided it was time to return to their fans and their music. FFH began touring again in early 2009. "We are beginning to feel like it's time to renew our connection with our audience and start telling them about this chapter in our story," said Jeromy.
Tickets for FFH are $20 for community, $10 for Andrews students and $15 for Andrews faculty/staff. Tickets are available for purchase at the Howard Performing Arts Center Box Office or by calling 888-467-6442.