Storioni Trio at the Howard
Top Headlines
Date:
October 5, 2009
Contact:
hpac@andrews.edu
Website:
Phone: 269-471-3560
The Storioni Trio, regarded as one of the most successful young chamber music ensembles of Europe, will perform at the Howard Performing Arts Center located on the campus of Andrews University on Sunday, October 18, 2009 as part of Howard Center Presents… for the 2009–2010 season.
Called "the flagship of Dutch Culture" according to the
NRC Handelsblad
, in the Netherlands, the Storioni Trio has been together since 1995. Their name comes from the violin played by the trio's violinist—Laorentius Storioni—a violin from Cremona dating from 1794. Wouter Vossen plays the violin in the trio, Marc Vossen is the cellist and Bart van de Roer is the pianist.
The Storioni Trio is the artistic director of an international music festival entitled Storioni Festival. The festival works in close cooperation with Frank Veenstra, the artistic manager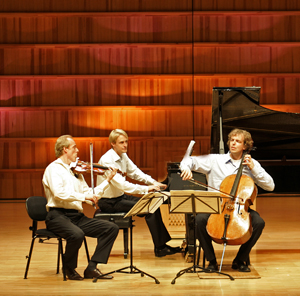 of Muziekcentrum and brings internationally renowned musicians to participate at each festival.
The Storioni Trio has worked with great names in music such as Isaac Ster and Mstislav Rostropovich. They've performed locally in the Netherlands as well as internationally in halls such as Weill Recital Hall of Carnegie Hall, Frick Collection of New York, the Wigmore Hall in London and the Kuhmo Festival in Finland.
The trio boasts a broad repertoire ranging from Haydn, Mozart and Beethoven to Ravel, Shostakovich, Brahms and Schubert. They also perform works by some contemporary composers, including a piece composed by Kevin Volans specifically for the trio, commemorating their tenth anniversary in October of 2005. They've been soloists with the Munich Chamber Orchestra, North Netherlands Symphony Orchestra, RTE Symphony Orchestra and Flanders Royal Philharmonic Orchestra. They have also performed with artists such as Nobuko Imai, Vladimir Mendelssohn and Elisabeth con Magnus.
Tickets for the Storioni Trio are $20 and can be purchased at the Box Office or by calling 888-467-6442 or 269-471-3560. For more information, please visit
www.howard.andrews.edu
.