Rojas Featured at Seminary Colloquium
Top Headlines
Date:
October 19, 2009
Contact:
pr@andrews.edu
Website:
Phone: 269-471-3348
"First, you must believe," said José Rojas as he began his series of talks as featured speaker for the monthly Seminary Colloquium. He repeated these words throughout the five meetings held from October 6–8, 2009, reminding his audience of mostly seminary students that success in their ministries depended on their own relationship and faith in Jesus.

Speaking on the topic of discipleship, Rojas, director of the Office of Volunteer Ministries for the North American Division, used both energetic humor and dramatic sincerity in relaying parables and personal stories to the packed Seminary Chapel at the Andrews University Seventh-day Adventist Theological Seminary in Berrien Springs, Mich.

"Let the scholar in the audience be impressed with your discourse, while the peasant in the pews says simply 'I'm so glad I came to church today because that was just for me'," said Rojas. "Let them grasp the depth of your message because you have grasped it."
After grounding his listeners in the difference between true belief and mere acceptance of Christ during Tuesday's meetings, Rojas focused his Wednesday message on becoming an acting disciple of Christ. He explained the importance of belief not only in God, but also in other people.

"If you expect little from people, then they will give you very little. Jesus expects us to give Him everything," he said.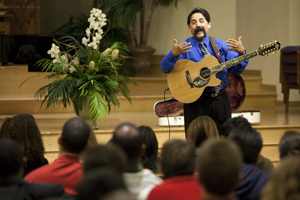 Thursday's topic encouraged listeners to go forth in action to create more disciples.

"History and research shows that true disciples always make more disciples," said Rojas, again emphasizing the importance of the pastor's relationship with God.
As director of the Office of Volunteer Ministries, Rojas coordinates the efforts of church, institutional and supportive organizations for shared goals in volunteer ministries including: student missions, taskforce missions, literacy programs, community projects, Bible work and evangelism. Their work has grown to oversee more than 70,000 volunteers.

Rojas also serves as a member of America's Promise Alliance, an organization founded by former Secretary of State Colin Powell that has resulted in more than 183 Adventist tutoring sites for underprivileged children in 26 states and provinces in North America. He has also worked with the White House for several years, assisting two United States presidents with domestic policy initiatives for humanitarian leadership in the U.S.

He holds an honorary Doctor of Divinity degree from Southwestern Adventist University, as well as a Bachelor of Religion and Master of Religion from Loma Linda University.

"My role as I perceive it being here is to be a pastor's pastor," said Rojas. To give nuggets to future pastors that will be valuable for their personal enrichment. They're already getting the theory, the theology, the skill-package training, all occurring here at one of the best centers in the world. But my role is to minister to their hearts, so that when they go to their congregations they can disciple them in Christ."

The series is part of the Seminary's monthly colloquium. Each month, the series focuses on a different attribute of the Seminary's core values statements. Previous programs have highlighted topics such as "Faithfulness with Expectation" and "Christ-likeness with Humility." Next month's focus will be on "Service with Passion."

This month's program was sponsored by the Seminary Student Forum and the Hispanic Association of the Seminary. Services included scripture readings in Spanish and lively Spanish music.
-Written by Kristina Penny, IMC student writer