Vienna Boys Choir Returns to the Howard
Top Headlines
Date:
October 20, 2009
Contact:
hpac@andrews.edu
Website:
Phone: 269-471-3560
The Vienna Boys Choir, a symbol of Austria for nearly 500 years, will perform at the Howard Performing Arts Center located on the campus of Andrews University on Thursday, November 5, 2009, at 7 p.m., as part of
Howard Center Presents…
for the 2009–2010 season.
Composed of 22 boys with an average age of 11-years-old, the choir begins its USA fall 2009 tour in Knoxville, Tenn., on October 22. The choir, only one section of the four Vienna Boys Choirs, is named Brucknerchor after Anton Bruckner (1824–1896), former organist of the imperial chapel in Vienna. The boys come from Vienna, Lower Austria, Salzburg, the Tyrol and Germany; some of Chinese, Japanese, Indian or Congolese roots. Two choir boys are from the United States: New York City and Cincinnati.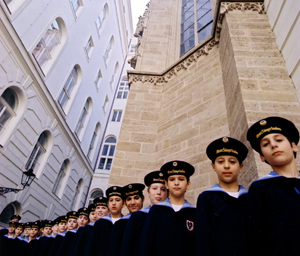 The Vienna Boys Choir was created by a founding document of Maximilian I in 1498 that called the first dozen boys to the imperial court as members of the newly formed court music band. Since then the Vienna Boys Choir has been a fixed attraction in Austrian musical life. Through the years, it has separated into four different groups named after famous Austrian composers associated with the choir's history: Bruckner, Haydn, Mozart and Schubert. They still perform these artists' music.
Tickets for the Vienna Boys Choir are $10 for students, $30 for faculty/staff and $35 for community. Purchase your tickets at the Howard Performing Arts Center Box Office or by calling 888-467-6442 or 269-471-3560. For more information, please visit
www.howard.andrews.edu
.