Ben Chilson Retires
Top Headlines
Date:
December 29, 2009
Contact:
pr@andrews.edu
Website:
Phone:
Ben Chilson has seen the cafeteria at Andrews University go from faded turquoise and pink, to pumpkin color with wood finish, from vinyl tile to carpet, from straight-line service to multiple stations. As he spoke words of thanks at the conclusion of a retirement tribute held for him on Sunday, Dec. 6, 2009, it was clear that these renovations had been a very important part of his work as director of Dining Services for 28 years.

"It has been so meaningful to be part of the University and to be able to implement innovations and quality food service on this campus with such a devoted team of workers," Chilson said in a later interview. "It's been great to be able to interact with the students and to determine their needs and to design our program around them."

At the retirement ceremony, many University faculty and staff read tributes and shared memories of Chilson. The program featured songs by Chilson's children and grandchildren and a musical tribute by Stephen and Susan Zork, associate professor of music and assistant professor of religion, respectively. Chilson recalls the celebration as fun and uplifting. It was really a highlight of his life because there were so many friends and colleagues present to support him. "I think my family being involved was also an exciting thing because I was saying that I'm just retiring and the kids don't need to all come and travel all those distances, but I'm really glad that they chose to come and I was really surprised to find out that they were actually part of the program."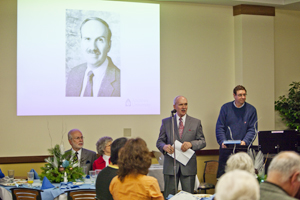 Chilson, seen at his retirement tribute on Sunday, Dec. 6
Chilson says he is also grateful for the time spent working with and the support of the administration and staff at Andrews. "I'll miss all of that but I want them to know that they are very important to me, that they are really a wonderful group to work for."
Chilson came to Andrews in 1981 but that wasn't his first contact with the University. Six years earlier, while working at Adventist Hinsdale Hospital near Chicago, Ill., he was contacted by Patricia Mutch, professor of nutrition at Andrews, who asked him to run an off-site program for dietetics students. As the Chilson's four children were becoming of school-age, they decided to begin looking for a place where they could raise them away from the bustling city.
"In January 1981, I was at one of the faculty meetings for Andrews and the food service director at the meeting mentioned that he would be moving away from Andrews and out west," said Chilson. "It occurred to me immediately that this might be what God had in mind for us."
Chilson contacted University administration, and in August of that year he arrived at Andrews as director of what was then known as Food Service. Prior to coming to Andrews, Chilson had earned his degree in dietetics while working as a food service director at Union College in Lincoln, Neb. Along with his new role as director of Food Service it seemed a natural fit for him to also become an assistant professor of nutrition at Andrews.
Chilson has been a part of many changes that took place in Dining Services since he arrived. In addition to the dramatic remodeling of Dining Services, the servery and the dining rooms in 2008, Chilson was also a driving force behind the installation of more efficient cooking equipment and digitization of the recipe system, which enables workers to punch in the number of servings needed and have the computer calculate the recipe.
But now Chilson says he feels the pull to retire and get to some other much needed business, including beginning work on a quantity vegetarian cookbook. "I think there's a real need for that and we have a wealth of recipes here at the University that we could compile, print and make available to the public."
He also wants to spend more time taking care of things at home. "It's a little overwhelming to be the home manager as well as manage things up here (Dining Services)," he said. His wife Sandra had a stroke in 2007, losing most of the use of her right arm. "She's really a trouper and does a lot of things around the house," he said. "It's amazing what she's able to do but I feel that I'd like to be there to help her."
As much as Chilson will miss working for Dining Services, many of his colleagues will also miss him. A retired staff, John David, who worked for Chilson for many years, described what it was like to work for him in a tribute given at the retirement party.
"Even though he was my boss, after getting to know him…I consider him as a friend, yes a friend indeed," said David. "Ben Chilson worked for the Church, not just for the money he received…otherwise it would have cost the University a lot more to pay for all the long days he put in for Dining Services. Ben led by example and did not require more of his staff than he was willing to do…When it comes to relationships, he is always one to put the interest and concerns of those he worked with or served first."
-Written by Kristina Penny, student news writer, Office of Integrated Marketing & Communication