Hyveth Williams Joins Seminary Faculty
Top Headlines
Date:
December 4, 2009
Contact:
pr@andrews.edu
Website:
Phone:
After spending 20 years as a senior pastor, including the past 13 years at the Campus Hill Church in Loma Linda, Calif., Hyveth Williams is transitioning from the pulpit to the podium. Her faculty appointment as professor of Christian ministry at the Andrews University Seventh-day Adventist Theological Seminary begins January 2010. Williams is a minister first and foremost, but humbly brings a wealth of experience as an educator, author and public speaker to her new role.
"This appointment is an unexpected opportunity to exercise my two professional passions—preaching and teaching. I pray that God will use me to inspire students as I was by my homiletics professors," says Williams.
Since 1996, Williams was the senior pastor at Campus Hill Church; prior to that, she served in the Southern New England Conference as both a senior pastor and campus chaplain. During that time, she developed campus ministries for Adventist students on college campuses in the Greater Boston area. In the late 80s, Williams was an associate pastor responsible for public evangelism at the Sligo Seventh-day Adventist Church in Takoma Park, Md.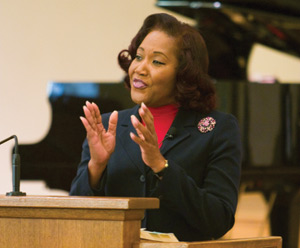 Hyveth Williams, seen here during a 2007 guest speaking
appointment at the Andrews University Seventh-day Adventist
Theological Seminary.
Denis Fortin, dean of the Seminary, says, "She brings to the Seminary many years of pastoral experience, a keen interest in communicating the gospel message with power and strength, and a desire to mentor young men and women for ministry."
But Williams also has a variety of experience outside of ministry as a director of Human Resources, an executive assistant to the mayor of Hartford, Conn., and women's editor/talk show host for a radio station. Add to that her 10 years of teaching experience as an adjunct professor at Loma Linda University and the Seventh-day Adventist Theological Seminary, and as a field school supervisor for the Boston University School of Theology.
She is a sought-after public speaker, which has brought her before audiences small and large—as many as 25,000—in dozens of locations both in the United States and around the world. This past summer, she was the keynote speaker for the Women's Ministry Congress on HIV/AIDS Self-worth and Relationship Building in Botswana. Her spiritual journey has been chronicled in the 2005 Damascus Road: Hyveth Williams' Conversion Story which continues to be aired on the Trinity Broadcasting Network (TBN).
Williams is the author of several books including Secrets of a Happy Heart: A Fresh Look at the Beatitudes and Will I Ever Learn? One Woman's Life of Miracles and Ministry (both Review & Herald Publishing). She is a chapter contributor to numerous other books, including two devotional volumes. Her work has also appeared in many journals and magazines including her monthly column in the Adventist Review, Women of Spirit, African American Lectionary, Insight Magazine, Signs of the Times and Ministry: International Journal for Pastors.
Williams holds a Doctor of Ministry from Boston University School of Theology, Boston, Mass.; a Master of Divinity from the Andrews University Seventh-day Adventist Theological Seminary; a Bachelor of Arts in theology from Columbia Union College in Takoma Park, Md.; and a General Certificate of Education from the London Polytechnic Institute, England.
-Written by Keri Suarez, media relations specialist, Office of Integrated Marketing & Communication