Educators Honored with Freedom Award
Top Headlines
Date:
January 22, 2010
Contact:
Website:
Phone:
Three very different kinds of educators were honored at the 2010 Legacy of Freedom Awards, part of the annual Martin Luther King Jr. Celebration at Andrews University. This year's convocation and awards presentation was held on Sunday, Jan. 17, in the Seminary Chapel at the Seventh-day Adventist Theological Seminary at Andrews University.
Edwin Hernandez, research fellow for the University of Notre Dame's Institute for Latino Research in the Center for the Study of Latino Religion and research director for the DeVos Family Foundation of Grand Rapids, is the keynote speaker. His presentation is titled, "Keepers of the Dream: The Role of a Christian University in Race Relations."
Hernandez challenged the audience to answer the call as keepers of the dream through working to change the achievement gap within our private and public educational system. "Perhaps no other issue is as critical to the future of our country—and to realizing the dream of social equality—than education. The achievement gap is the civil rights issue of our day—a fundamentally moral issue—demanding our attention, our minds and all of our energies."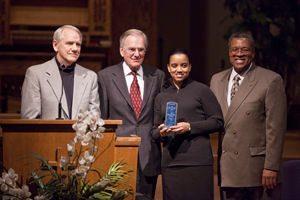 (L-R) Bill Richardson, interim provost; Niels-Erik Andreasen,
president; Renene Price, Freedom Award recipient; and Joseph
Warren, associate professor of English and a member of the MLK
Planning Committee.

Bill Richardson, interim provost, presented this year's Freedom Awards to local educator Charlotte Groff, The Mildred C. Wells Academy of Benton Harbor and Gateway of Berrien Springs. The Legacy of Freedom Award recognizes individuals or organizations who exemplify King's values of civility and equality.

Groff, over the nearly five decades of her classroom teaching career, has creatively and energetically applied educational strategies to transform minds and redeem humanity. Her work in education has contributed to the success of thousands of students in the Michigan Migrant Program; Benton Harbor, St. Joseph and Coloma schools; Lake Michigan College and Andrews University.

Renene Price, school leader, accepted on behalf of the Mildred C. Wells Academy (MCWA), which was founded in 2005 in Benton Harbor to address America's most urgent civil rights issue: the comprehensive education of all children. Today, this unique learning environment consists of 181 students in grades K–12, 37 highly qualified adults, and a host of supportive parents, volunteers and board members.

Mary Lee Moore, executive director, accepted the award on behalf of Gateway. Established in 1974 in Berrien Springs, Gateway engages the efforts of committed local citizens to provide vocational training opportunities for special-needs children and adults. Gateway's mission statement is "to improve the quality of life and level of independence of individuals with disabilities and barriers through vocational opportunities, therapeutic services, training and other supports."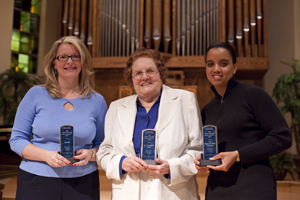 L-R: Mary Lee Moore, executive director of Gateway; Charlotte
Groff, an educator; and Renene Price, school leader, Mildred C.
Wells Academy.