King's Legacy Inspires Week of Events
Top Headlines
Date:
January 7, 2010
Contact:
pr@andrews.edu
Website:
Phone:
"Building the Beloved Community: Transforming Minds…Redeeming Humanity" is the theme for the 2010 Martin Luther King Jr. Celebration at Andrews University. This year's events, running Jan. 14–19, aim to inspire all to carry on the social justice legacy of Dr. King through speakers, co-curricular discussions, service events and a scholarly symposium. All events take place on the campus of Andrews University.
The celebration kicks off with prominent African-American educator, Freeman Hrabowski III, offering the keynote address for University Forum on Thursday, Jan. 14. The program begins at 11:30 a.m. in Pioneer Memorial Church and the public is welcome to attend. Hrabowski is the president of the University of Maryland. His research and publications focus on participation and performance of African-American males. His recent awards and honors include election to the American Academy of Arts & Science and the American Philosophical Society; receiving the prestigious McGraw Prize in Education; and the U.S. Presidential Award for Excellence in Science, Mathematics and Engineering Mentoring. Hrabowski was named one of America's Best Leaders by
U.S. News & World Report
in 2008 and was selected by
Time Magazine
as one of the Top Ten College Presidents in 2009.
Each year, Andrews observes a tradition of having a student present one of King's sermons. This year's honored student, Morgan Medlock, a seminarian, will present, "Why Jesus Called a Man a Fool," during the New Life Fellowship Worship Service on Saturday, Jan. 16, at 11:30 a.m. in the Seminary Chapel in the Seventh-day Adventist Theological Seminary. This sermon was originally presented by King at Mt. Pisgah Missionary Baptist Church, Chicago, Ill., on August 27, 1967.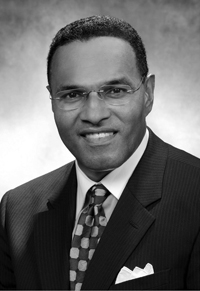 Freeman Hrabowski III
One individual and two organizations are recipients of the 2010 Legacy of Freedom Awards. This year's convocation and awards presentation will be on Sunday, Jan. 17, in the Seminary Chapel, at 7 p.m. The recipients are local educator Charlotte Groff, The Mildred C. Wells Academy of Benton Harbor and Gateway of Berrien Springs. Edwin Hernandez, research fellow for the University of Notre Dame's Institute for Latino Research in the Center for the Study of Latino Religion and research director for the DeVos Family Foundation of Grand Rapids, is the keynote speaker. His presentation is titled, "Keepers of the Dream: The Role of a Christian University in Race Relations."
An essential component of honoring King's legacy is performing meaningful acts of service. To bring our celebration of the holiday in closer alignment with King's vision, the campus and the community is invited to participate in a MLK Food Drive to benefit Neighbor to Neighbor in Berrien Springs. Through Friday, Jan. 15, non-perishable food items will be collected in marked receptacles across the Andrews campus and at several partnering schools in Berrien Springs. Community members are encouraged to use the drop-off receptacle located at the Horn Archaeological Museum, located next to Apple Valley on U.S. 31 in Berrien Springs. On Monday, Jan. 18, volunteers will collect the donations and deliver the goods to Neighbor to Neighbor.
The week of events concludes with an MLK Scholarly Symposium at 6 p.m. on Tuesday, Jan. 19, in Room 163 of Bell Hall. Three presentations will be made by graduate students, each one illuminating the theme of education's role in social justice issues.
Event poster