Recycling Textbooks
Top Headlines
Date:
February 18, 2010
Contact:
Website:
http://bookstore.andrews.edu
Phone: 269-471-3287
If you are looking to avoid hauling old textbooks back home at the end of the semester or seeing them end up in a dumpster, the Andrews University Bookstore is offering a new option. Beginning in early February, a collection box was installed inside the store for One Planet, a recycling program that accepts any outdated or out-of-print textbooks.
"We're able to offer something to the students: if they have a dead book and nobody wants to buy it, instead of just throwing it out, we can recycle it," said Cindy Swanson, textbook manager.
Missouri Book Systems (MBS), a used textbook supplier, created the initiative and chose to partner with the Andrews Bookstore, one of many participating bookstores nationwide. In 2008 alone, MBS recycled 272,520 pounds of textbooks.
"They'll take any textbook that is no longer of any value. They actually crop the book and recycle the paper separate from the hard cover," said Swanson.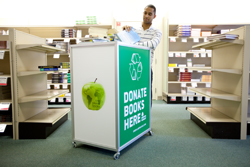 Got an out-of-date textbook? Recycle it!
All types of textbooks are accepted but the recycling program cannot accept magazines, or newspapers. The bookstore will sort through and repackage all submissions before sending them off to MBS, who covers the shipping costs. For every box of books the bookstore ships, MBS donates $10 toward a charity of their choice. Swanson says the bookstore is still deciding what cause to support with their donations.
She also encourages faculty who have libraries of old, unwanted books to donate. "There are professors and other people on campus who have books. It's not just the students," said Swanson. "Everybody needs to do their part and work as a team. That way we can make a difference. If one person recycles their book, that might be ineffective, but it's not if 3,500 students each recycle one book."
Learn more about the One Planet program by visiting
www.oneplanetbooks.com
.