7th Annual Easter Passion Play
Top Headlines
Date:
March 22, 2010
Contact:
passionplay@andrews.edu
Website:
http://www.passionplay.andrews.edu/
Phone: 269-471-8360
The seventh annual Easter Passion Play will be held
Saturday, April 3
, on the campus of Andrews University in Berrien Springs. This indoor/outdoor walk-through experience depicts the life, death and resurrection of Jesus Christ.
Rotations begin every half hour starting at 9 a.m. and the last rotation begins at 6:30 p.m. Spanish rotations begin at 3 p.m. and 5:30 p.m. Individuals, families and church and school groups are encouraged to make free event reservations early by visiting
www.passionplay.andrews.edu
. Guests are encouraged to arrive 30 minutes before their scheduled rotation. Upon arrival, guests will be given wristbands which must be worn at all times.
The annual Easter Passion Play was made real through the vision and inspiration of Ron Whitehead, assistant to the president for spiritual life and director of the Center for Youth Evangelism at Andrews University. In 2002, he discovered there were no other interactive passion plays in the area. He shared these findings with University leaders and received unanimous support to begin plans for a drama the following school year. In 2003, their efforts paid off and the first Easter Passion Play took place on the Andrews University campus.
"The Easter Passion Play has brought new meaning to the plan of salvation for me," says Reena Dollente, volunteer staff coordinator and senior at Andrews University. "Experiencing it last year made me realize how real Christ's compassion for this world was—and still is. This ministry is definitely one that will remind us of how valuable we are and will make visitors want to come every year."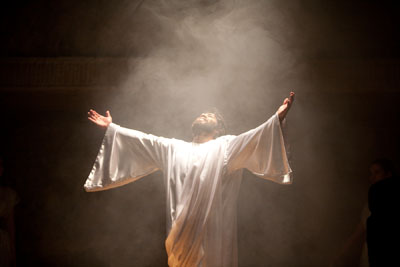 Since its beginnings, the production has grown from an impressive 5,000-person crowd to an estimated 8,000 number of attendees expected at this year's production. The first scene will take place at the Howard Performing Arts Center. The audience will then be guided through the sights, sounds, smells and tastes of a Middle Eastern marketplace complete with live animals and merchants "selling" their goods. Participants will witness the Last Supper, the arrest of Jesus Christ in the Garden of Gethsemane and a moving reenactment of the crucifixion. The final scene takes place in a darkened Johnson Gymnasium where the stage is transformed into the tomb where a resurrected Christ emerges from the tomb.
Following the resurrection scene, participants can enjoy free refreshments at the Hospitality Tent located in the gym parking lot. While there, they can also fill out an optional survey, reflect in the prayer room or take a free shuttle ride back to the main event parking lot.
"We have found that it takes over 600 volunteers to make the Easter Passion Play come alive to the community," says Whitehead. "I have great appreciation for each one. Each volunteer plays an important part in making sure the story is told properly and in a high-quality way."
Volunteers are still needed for the Easter Passion Play. If you are interested in volunteering, visit
www.passionplay.andrews.edu
or call 269-471-8360. Speaking and non-speaking roles are still available.