2010 Faculty-Staff Awards Presented
Top Headlines
Date:
March 2, 2010
Contact:
pr@andrews.edu
Website:
Phone:
The 2010 Faculty-Staff Service Awards Celebration was held Monday, March 1, in the Howard Performing Arts Center. At this annual event, faculty and staff members who reach a milestone in their Andrews career are honored with a Years-of-Service Award. The Excellence in Service Awards, Spiritual Life Award and Daniel Augsburger Awards for Excellence in Teaching are also presented.

Following a hors d'oeuvres buffet in the Howard Lobby, President Niels-Erik Andreasen opened the program. Stephen Payne, vice-president of Enrollment Management and Integrated Marketing & Communication, served as master of ceremonies. He presented an unscripted award to Sandra Richardson, wife of interim provost Bill Richardson, for her support and sacrifice following her husband's decision to come out of retirement to serve at Andrews for this previous academic year. At the end of the program, in a gesture meant to acknowledge his near-milestone contribution to Andrews, Richardson was presented with a one-of-a-kind 29.5 Years-of-Service Award.

In honor of the 15 staff and faculty who received a 30, 35 or 40 Years-of-Service Award, an "Andrews Family Matters Quiz" was distributed. Each multiple-choice question highlighted a unique fact about one of the 15 award recipients. At the end of the program, the person with the most correct answers, Bonnie Beres, won an iPod. Two runners-up, Steve Nash and Ron Neumann, each won a fruit basket.

Excellence in Service Award Recipients
Three staff members were honored with Excellence in Service Awards. Aimee Vitangcol-Regoso, assistant registrar, Academic Records; Paul Elder, manager, Plant Service; and Deborah Weithers, manager, Howard Performing Arts Center. The award is given in recognition of outstanding service to the University, the Church, and the community, and for demonstrating, by precept and example, a Christ-centered life.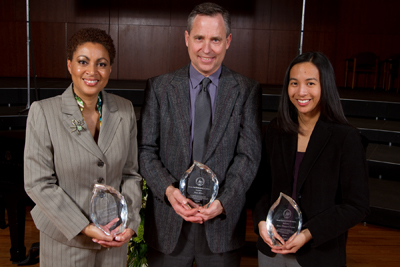 Daniel A. Augsburger Excellence in Teaching Award
Nine faculty members were honored with the Daniel A. Augsburger Excellence in Teaching Award. This award recognizes faculty whose teaching reflects the high standards of excellence modeled by Dr. Augsburger in his 60 years of teaching at Andrews University. Augsburger's leadership, academic rigor, breadth of knowledge, teacher-scholar role, along with care and concern for students, exemplify the best of faculty endeavors. Faculty from each school nominate and choose their individual candidates. This year's recipients were: John Banks, professor of physical therapy, College of Arts & Sciences; Karl Bailey, assistant professor of psychology, College of Arts & Sciences; Lilianne Doukhan, associate professor of music and French, College of Arts & Sciences; Robert Moore, professor of mathematics, College of Arts & Sciences; David Sherwin, instructor of technology, College of Technology; Robin Johnson, assistant professor of architecture, School of Architecture; Jacquelyn Warwick, professor of marketing, School of Business Administration; Duane Covrig, professor of leadership and educational administration, School of Education; Randall Younker, professor of Old Testament and Biblical archaeology, Seventh-day Adventist Theological Seminary.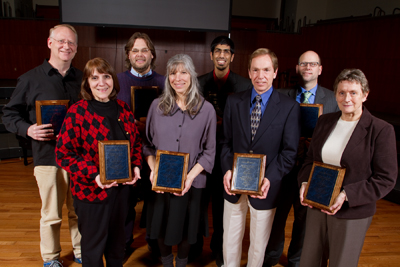 Spiritual Life Award
Carey Carscallen, a member of the School of Architecture faculty since 1997 and current dean, believes architecture is something that should be used to help and enrich the lives of others, to bring glory to God rather than to an individual. He is behind the founding of Architecture Missions Group and CERENID, which give students an opportunity for service and spiritual growth. His colleagues say of him: "Carey is a man who stands tall in more ways than one. He is a man of strong convictions and Christian character." "Dean Carscallen may at first seem quiet and reserved, but he models the Biblical ideal of servant-leadership." "Through him, I have seen what being a good Christian is."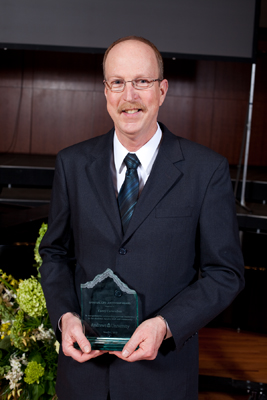 40 Years-of-Service Award
Gary Land is professor of history and chair of the Department of History & Political Science. In 1966, he graduated from Pacific Union College with a Bachelor of Arts in history. He continued his studies at the University of California and completed a Master of Arts in history in 1967 and a PhD in 1973. During the 2000–01 school year, he received the Andrews University Faculty Award for Excellence in Research and Creative Activity. He is an author and editor of several books on Adventism and has presented papers at various professional conferences.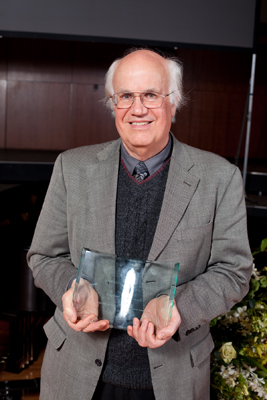 35 Years-of-Service Awards
Bonnie Beres is an administrative assistant in the Department of Christian Ministry at the Seventh-day Adventist Theological Seminary. She graduated from Andrews University in 1970 with a Bachelor of Arts in English and a minor in speech. During her time in the Seminary, she has enjoyed spiritual conversations, chapels, speakers and getting to know the students and her coworkers better. She is known for having a positive attitude and reflecting a Christ-like character in all she does.

Ron Neumann has worked in ITS (previously the Computing Center) for his entire career at Andrews and is currently operations manager for Telecommunications. He received an Occupational Education Certificate in Electrical Wiring in 1974 from Andrews University and immediately began work as a computer operator. Ron has been involved in the amazing changes in the computer field as he worked with the University's central computer systems beginning with the IBM 370, the Xerox Sigma, the Sequent computer and now with the Sun and Dell servers. He has also worked as an assistant operations manager, operations manager and with phone/data wiring and repair.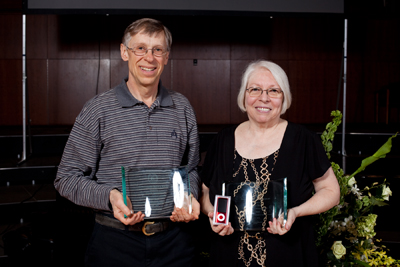 The awards portion of the evening also included recognition of employees with 5, 10, 15, 20 and 25 years of service with the University.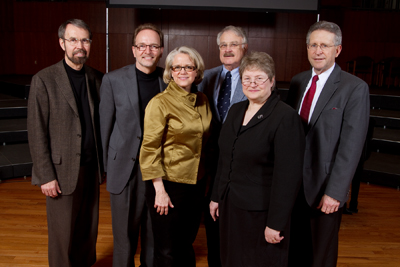 30 Years-of-Service Awards
L-R: Richard Davidson, Donald May, Rebecca May, Dennis Woodland,
Margarita Mattingly, Richard Scott. Not pictured: Leonard Gashugi, Norma Greenidge, Virginia Nachreiner, Don Smith, Cleon White, Dianne Wilson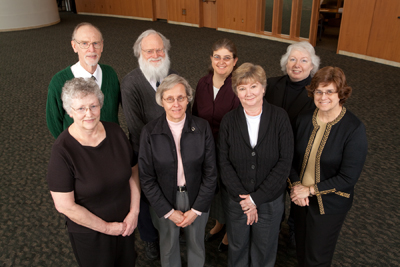 25 Years of Service
Front row, L-R: Lois Grimm, Judith Nelson, Janice Wrenn, Marcia Kilsby
Back row, L-R: Peter Swanson, James Massena, Lorena Bidwell, Rhonda Root
Not pictured: Jacques Doukhan, Eileen Lesher, Keith Mattingly, Mary Mun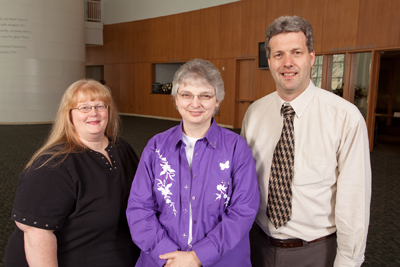 20 Years of Service
L-R: Lori Colwell, Jeannie Mack, Gordon Atkins
Not pictured: Patricia Banks, Mickey Kutzner, Arlen Springer, Curtis VanderWaal, William Wolfer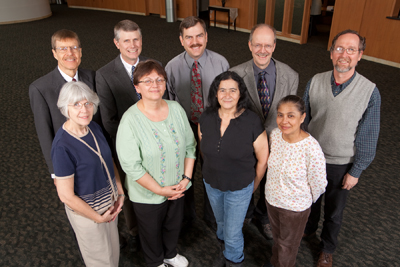 15 Years of Service
Front row, L-R: Marilyn Bender, Lilijana Vajdic, Emma Tenorio, Sara Bermeo
Back row, L-R: Jerry Moon, Llewellyn Seibold, William Greenley, Erich Baumgartner,
Thomas Goodwin. Not pictured: Niels-Erik Andreasen, Kathleen Berglund, Roy Gane,
Daniel Hamstra, Lucia Kijai, Lynn Millar, Desmond Murray, Elizabeth Oakley, David Village



10 Years of Service
Front row, L-R: Beverly Peck, Paula Dronen, Ben Maguad, Ralph Wood.
Back row, L-R: Gina Pellegrini, Brent Geraty, Martin Bradfield, Vernon Byrd, Kevin
Wiley. Not pictured: Heather Carpenter, James Doran, Karl Hubin, James Jeffery,
Greggory Morrow, Luz Dominguez Sauve, David Sherman, Ranko Stefanovic,
Wanda Swensen, Sharyl Turon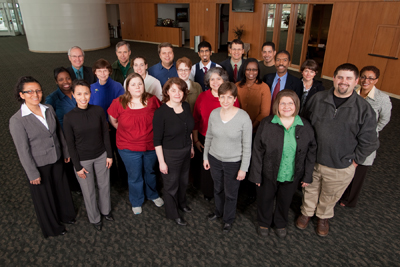 5 Years of Service
Front row, L-R: Luz Ruiz-Tenorio, Beverly Brown, Stephanie Tilly, Kelly Youngberg,
Cynthia Caballero, Jody Villwock, Michael Villwock. Second row, L-R: Juliette Horton,
Nancy Agnetta, Marie Grant, Amy Litzenberger, Ada Mendez, Henrietta Hanna,
Martin Hanna, Deborah Weithers. Back row, L-R: Verlyn Benson, Paul Elder, Peter Pribis,
Karl Bailey, Wagner Kuhn, Roy Villafane, Michele Trubey Not pictured: Rosemary Bailey,
Jameson Bangkuai, Cynthia Birney, Sylvia Budd, Ronald Dettmann, Gary Gifford,
Claudio Gonzalez, Ryan Gooden, David Jardine, William Keith, Averil Kurtz, Nicholas Miller,
Yun Myung, Gisela Schmidt

-Written by Keri Suarez, media relations specialist, Office of Integrated Marketing & Communication