New Initiatives in Fitness Education
Top Headlines
Date:
March 18, 2010
Contact:
wakefiel@andrews.edu
Website:
www.andrews.edu/cas/fitness
Phone: 269-471-3256
Andrews University is about to get a little bit fitter. Starting in the fall of 2010, the Department of Nutrition & Wellness will begin offering a Bachelor of Science in Health & Fitness and a Bachelor of Health Science in Wellness.

In the fall of 2009, a minor in fitness education became available, offering students the opportunity to become certified as a personal trainer or group fitness instructor. Over 30 students are currently enrolled. "This is a great supplement to all students going into the field of health, medicine, nutrition or physical therapy," says Dominique Wakefield, assistant professor of physical education. "But, of course, it benefits any other area of study since this is a career that could be secondary to any occupation."

Under Wakefield's leadership, a number of other new initiatives are already in place to provide extra resources for students studying health and fitness, including partnerships and new exercise opportunities.

Andrews University is now an educational partner with the American Council on Exercise (ACE) and has become a testing site for National Health & Fitness certifications. ACE is a nonprofit organization that protects the public by setting certification and continuing education standards for fitness professionals. The certifications it offers, which are incorporated into the fitness education minor and two new majors, are: personal trainer, group fitness instructor, lifestyle and weight management consultant, and advanced health and fitness specialist.

As part of this new partnership, Andrews University will host the first ACE exam on Sunday, May 9, from 8 a.m.–2:30 p.m. in the Physical Therapy building, room B. The ACE exam is open to the entire community. Those interested in taking the Personal Trainer or Group Fitness Instructor Certification can contact Dominique Wakefield at wakefiel@andrews.edu. Andrews students receive a $40 discount if they take the exam at Andrews.

Wakefield says, "We are so excited students at Andrews now have the possibility to study health and fitness in combination to pursue competitive and fast-growing careers. These new minor and majors are current, up-to-date and aligned with the latest content and research for concepts and applications in physical fitness."

A new expansion of the Andrews rock wall opened in mid-winter, offering students another option for indoor activity. The rock wall is located in Beaty Gym and during open hours a supervisor is on duty to answer questions or offer assistance. Rock climbing passes for students, faculty and staff are available at the Pool Desk during their normal business hours. A half-semester or full-semester pass is available. Learn about hours of availability at www.andrews.edu/cas/fitness.

On Feb. 2, 2010, the FitZone was officially opened. It serves as a lab, classroom and place of practical learning for students who are taking fitness education courses. The FitZone is located directly behind Marsh Hall in the little brick building.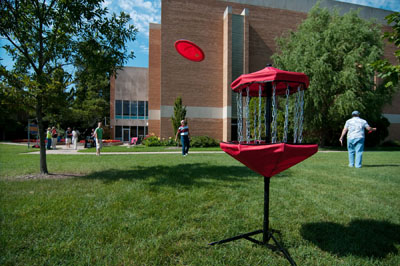 The new disc golf course offers students, staff, faculty and the community a fun outdoor
activity. (Photo by IMC student photographer Darren Heslop)
The Andrews disc golf course, which opened last fall, is yet another new recreational fitness opportunity courtesy of Fitness & Exercise Studies in the Department of Nutrition & Wellness. The 18-basket course begins on the lawn behind Beaty Gym and the rules are similar to golf, except faster-paced.
"The new courses and fitness options that are part of these new degrees incorporate theoretical and practical knowledge which has already greatly impacted the entire Andrews University campus community," says Wakefield.
-Written by Keri Suarez, media relations specialist, Office of Integrated Marketing & Communication