New BEST Video: A Passion for Research
Top Headlines
Date:
April 27, 2010
Contact:
murrayd@bestearly.com
Website:
Phone:
For most of the last decade, a poster of TaMira Jennings and Damon Travis has been on display just outside of Lula Lee's Benton Harbor City Commission door—across the hall from the Mayor's office. To some it may be just another poster, just another picture of two Benton Harbor High School students. However, to Desmond Murray, assistant professor of chemistry at Andrews University, there are almost 10 years of meaning in that poster. Now, upon releasing his latest video about early research participation in March on YouTube, Murray remembers Jennings and Travis as the first high school students in his summer research program back in 2001.
Back then the program, formed in collaboration with a grassroots Benton Harbor organization, was called Benton Harbor Science Initiative. Today, it is a non-profit organization known as Building Excellence in Science and Technology (BEST), which has been actively involved in providing southwest Michigan students, high school and college, with early research opportunities in keeping with its motto of People First, Innovate Early. Research projects have targeted synthesis of antibacterials, dyes, fragrances, environmentally friendlier pesticides and sensors for chemical warfare agents, agricultural pollutants and other toxic agents.
BEST apprentices have presented their research findings at national scientific meetings and their work has been displayed in Berkeley, California and Paris, France. Also, three BEST students were recently published in February as co-authors on a research paper about sensors for toxic organophosphate pesticides. Two of these are Andrews students: Ken Fletcher, a 2010 chemistry graduating senior and Keith Campbell, a 2005 biology alumni.
The recently released video–A Passion for Research: Inspiring High School Students–features Wen-Ting Ong, Berrien Springs High School '07; Rachel Skibbe, Eau Claire High School '07; and Nikia Davis, Benton Harbor High School '07. They were students in Murray's 2007 grade 12 Math Science Center class, which was recognized as a finalist in the Business Review's Innovation Michigan Exposition in Grand Rapids, Mich. All three students are now juniors attending college: Ong is at Andrews University, while Davis and Skibbe are at Michigan State University.
"Dr. Murray has demonstrated in this video how researchers can have a large impact on young people by engaging them in research experiences, stimulating their curiosity and building their confidence. This video will also be a valuable tool in sharing this successful model to other researchers across the country and encouraging them to develop programs that engage young people at an early age," said Sandra Welch, program director for the Informal Science Education program at the National Science Foundation.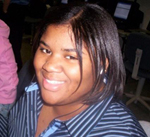 Nikia Davis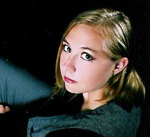 Rachel Skibbe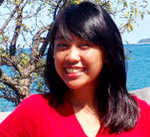 Wen-Ting Ong
Murray has received research funding from the National Science Foundation (NSF), the American Chemical Society (ACS) and from ACS Project SEED to support these opportunities over the years. He also partnered with local organizations, such as, St. Joseph Valley ACS Chapter, Benton Harbor Youth Works and Michigan Works in direct support of student remuneration.
After viewing the YouTube video, James H. Hageman, associate vice chancellor for research at the University of Colorado, Denver said, "This is based on a large and continuous effort over the years on Murray's part. I have shared this with a large group of science-educator faculty at UC Denver as well as former colleagues at New Mexico State University."
Joseph Francisco, 2010 president of the American Chemical Society and the William E. Moore Distinguished Professor of Chemistry at Purdue University, remarked "It is these grassroots efforts that lead to long-lasting, positive change and long-term investment in young people for the sciences. Well done!"
In the early years of providing opportunities for area students to do authentic cutting-edge research, Murray would often personally drive to and from Benton Harbor to bring the students to his lab in the Department of Chemistry & Biochemistry. This was done voluntarily by Murray, without cost—administrative, travel or otherwise—to any agency or organization. Murray said, "This was and continues to be a labor of love. My life mission is to provide opportunities in research, discovery and innovation for those who, for various reasons, have usually been left out. My effort comes from my core belief that all God's children should participate in and contribute to one of humanity's greatest adventures–the scientific enterprise."
The video, which was funded by a 2007 grant awarded to Murray by the National Science Foundation's Communicating Research To Public Audiences program, can be viewed at www.youtube.com/watch?v=G3gQU6pUQSI.

More about BEST
Building Excellence in Science and Technology (BEST), People First, Innovate Early, is a Berrien County-based, science-education, nonprofit organization that advocates for and provides early research participation opportunities for high school and college students. Its founding CEO is assistant professor Desmond H. Murray in the Andrews University Department of Chemistry & Biochemistry. Additional information can be obtained by contacting murrayd@bestearly.com or 269-757-1641.
-Written by Desmond Murray