2010-11 Howard Center Presents. . .
Top Headlines
Date:
June 29, 2010
Contact:
hpac@andrews.edu
Website:
http://www.howard.andrews.edu
Phone: 888-467-6442 or 269-471-3560
Featuring a vast array of musical genres, the Howard Performing Arts Center's 2010–2011 concert series
Howard Center Presents…
will feature Christian and classical performing artists, including Big Daddy Weave, Sphinx Chamber Orchestra and the Georgia Guitar Quartet.
The season will kick off with Opening Night 2010! on Sunday, Aug. 29. The opening concert will feature Lake Effect Jazz, Juan Carlos Rodriguez and special programming by Andrews University faculty and students.
On Sunday, Sept. 12, Christian band Big Daddy Weave along with solo artists Aaron Shust and Andy Kirk will continue their Hope Restored Tour at the Howard Center. In their decade-long career, Big Daddy Weave has produced five albums including
Christ Has Come
, a Dove Award winner chosen as the 2010 Christmas Album of the Year. Singer/songwriter Aaron Shust is best known for his hit-single
My Savior, My God
and a trio of Dove Awards for "Song of the Year," "Songwriter of the Year" and "New Artist of the Year." Andy Kirk, a worship leader/recording artist from Nashville, Tenn., is recognized for his leadership at LifeChurch.tv, one of the largest and most innovative churches in America. He released his debut record on May 11, 2010.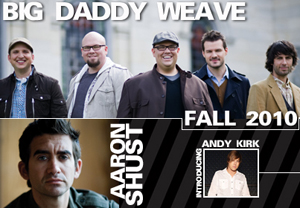 Two faculty members will take the stage for a recital on Saturday, Sept. 25. Claudio Gonzalez, Andrews University Symphony Orchestra conductor and associate professor of music, will perform selections with pianist Chi Yong Yun, director of piano studies and assistant professor of music at Andrews University.
The Christian Artist Series will feature a concert by singer/songwriter Scott Krippayne on Saturday, Oct. 30. Influenced by the musical sounds of Billy Joel and Elton John, the piano player's songs center on Jesus as the revolutionary way of life. Krippayne's new songs reflect his own spiritual journey in an ever-changing world.
If you're looking for a more diverse performance, check out The Sphinx Chamber Orchestra on Sunday, Oct. 17. The concert will feature well-known selections in addition to works by African-American and Latino composers. The Harlem Quartet, an ensemble whose mission is to engage audiences in classical music and diversity, as well as up-and-coming violinist Elena Urioste will also perform.
The following Sunday, the Christian Artist Series will resume with singer/songwriter Michael Card. Feeling he can always do more, Card has recorded over 23 albums in addition to authoring/co-authoring 19 books and hosting a radio program. The popularity of his work seems to be a stark contrast to his simple life goal: to quietly teach the Bible.
A Charlie Brown Christmas with David Benoit kicks off the holiday season on Sunday, Nov. 28. The Grammy-nominated pianist will perform smooth jazz and holiday arrangements made famous by Vince Guaraldi on the Charlie Brown Christmas TV specials.
The Howard Center will bring in the New Year with the rich harmonies of Naturally7 on Sunday, Jan. 23. Naturally 7 has performed on
The Today Show
and
The Tonight Show
and has toured with Michael Buble. CBS News' Daniel Sieberg has said of Naturally 7, "It's hard to describe their act other than saying each of them used their voices in unison to recreate a different musical instrument from drums to brass instruments to guitars. They made beatboxing look like child's play."
On Saturday, Jan. 29, BarlowGirl will take the stage with selections from their latest album,
Love & War
, among other song favorites. Siblings Rebecca, Alyssa and Lauren Barlow are famous for their bold and inspirational lyrics, particularly those in popular hits
Never Alone
and
I Need You to Love Me.
A legend in the Christian music industry, Sandi Patty, will also perform at the Howard Performing Arts Center. Enjoy numbers from her 20-plus albums on Saturday, Feb. 19. Patty is a highly regarded Christian artist and the winner of five Grammy awards, 16 Dove Awards and an inductee to the GMA Hall of Fame.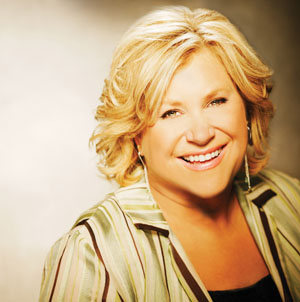 On Saturday, March 5, Carla Trynchuk and Trina Thompson will perform a faculty recital. Trynchuk, professor of music and director of the string program at Andrews University, is a violinist who has performed solos for the Calgary Philharmonic in Canada and the Banatul and Iasi Philharmonic Orchestras. Thompson, associate professor of music, is an acclaimed pianist who was awarded Indiana University's Chancellor's Fellowship and the IU Music Theory Department's Dissertation-Year Fellowship.
The season will conclude with a concert by Jason Solomon, Phil Snyder, Brian Smith and Kyle Dawkins of the Georgia Guitar Quartet on Sunday, April 3, 2011. In 1996, the ensemble emerged as an exciting new voice in the chamber music scene. The group draws their inspiration from classical masterpieces, Irish folk music, late Impressionistic tones and contemporary rock icons.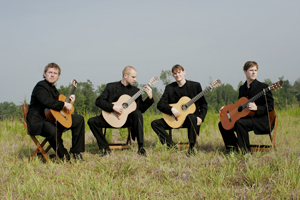 Ticket prices will be released at a later date. All tickets go on sale Monday, August 2, 2010, at 1:30 p.m. and can be purchased by calling the Howard Performing Arts Center Box Office at 888-467-6442 or 269-471-3560. Summer Box Office hours are Monday–Thursday, 1:30–5 p.m. and Friday 9 a.m.–12 p.m. For more information please visit us on the web at
www.howard.andrews.edu
.