Hope Restored at Howard Center
Top Headlines
Date:
September 8, 2010
Contact:
hpac@andrews.edu
Website:
www.howard.andrews.edu.
Phone: 269-471-3560
Three up-and-coming Christian artists, Dove Award winner Big Daddy Weave, Aaron Shust and new-to-the-scene singer Andy Kirk combine for a sure to be dynamic concert as the "Hope Restored Tour" makes a stop in Southwest Michigan. Their concert begins at 7 p.m. on Sunday, Sept. 12, 2010.
All three performing artists have histories in praise and worship leading and have received awards including Songwriter of the Year, Song of the Year and New Artist of the Year. In 2002, Big Daddy Weave was nominated at the Dove Awards as New Artist of the Year. Their popularity was due, in part, to the success of
One and Only
, the group's first album. The record remained in the SoundScan's Christian Top 20 for six consecutive weeks and featured hit songs
In Christ
and
Audience of One
. Today, several hits from their 2008 album,
What Life Would Be Like
, dominate the charts, including the Top 20 song,
You Found Me
.
Big Daddy's Weave's decade-long career has included national and international tours, four number-one hits and the production of six albums and an acoustic EP. The five-person band also received a Dove Award for their Christ Has Come album, which was named the 2010 "Christmas Album of the Year."
Worship leader Aaron Shust is a three-time Dove Award Winner for his debut project,
Anything Worth Saying
. The album earned him Songwriter of the Year, New Artist of the Year and Song of the Year (
My Savior, My God
) in 2007. His third album,
Take Over
, was released in 2009 and is "an album about submission," says Shust. "Its central theme might be surrender, a relinquishing of control... It is only through what Christ has done on the cross that we have any hope."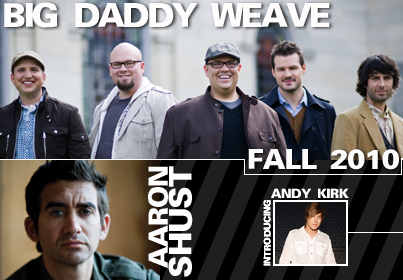 Shust wrote or co-wrote all of the songs he performs. To get inspiration for
Take Over
, he paired up with respected artists in the industry, including Brandon Heath, Jason Ingram and Matthew West. Shust says the experience humbled him, stretched him and helped him to rediscover himself as a songwriter. It is expected that his new single,
To God Alone
, will rival the success of number-one hit
My Savior My God
.
During the tour, Big Daddy Weave and Aaron Shust introduce a new artist to the Christian music scene. Andy Kirk is a 23-year-old worship leader/recording artist from Nashville, Tenn. In years past, he served as a pastor/worship leader for LifeChurch.tv, one of the largest and most innovative churches in America. Just two days after the release of his debut album,
Wake up My Soul
, in May 2010, Kirk began a Canadian tour with Big Daddy Weave and Building 429. He has also toured through Tennessee, Kentucky and Missouri leading worships and promoting the album.
The title of the new record reflects Kirk's heart as he explains, "I hope to see God's people awake from their slumber, from the numbing effect of culture and society, to the knowledge and revelation of who Christ is and what He can do through us, if we choose to worship Him."
Tickets for the Hope Restored Tour can be purchased by calling the Howard Performing Arts Center box office at 269-471-3560 or 888-467-6442. Reserved seating tickets are $25, faculty and staff are $20 and Andrews University student tickets are $10. Special rates apply for groups and Flex Series tickets. Learn more by visiting
www.howard.andrews.edu
.