Promoting Early Research Participation
Top Headlines
Date:
August 31, 2010
Contact:
murrayd@andrews.edu
Website:
Phone: 269-757-1641
In what he describes as a series of short promotional video ads in a cutting-edge campaign for early research participation, Desmond Murray, assistant professor of chemistry at Andrews University, launched Not Too Young To Research on YouTube on August 22, 2010.

For more than a decade Murray has been giving students a window to the wonders of laboratory research through the nonprofit BEST (Building Excellence in Science & Technology) organization he created for high school and college students. He describes the BEST Early programs as 'incubators of innovators,' in which students get hands-on experiences in authentic research four to eight years earlier than normal. His passion is igniting enthusiasm for discovery and innovation by getting students into the lab early. More than 600 students have participated in BEST Early research programs, doing real research into new dyes, hybrid drugs and sensors for toxic agents. Murray, the program's founder, has helped students facilitate research projects funded by grants from the National Science Foundation, American Chemical Society (ACS) Petroleum Research Fund, ACS Project SEED and Andrews University Office of Research & Creative Scholarship. Follow-up surveys of participating students indicate 76 percent say the experience heightened their interest in research, with 71 percent reporting increased interest in chemistry.

There is a growing national and international understanding that programs like BEST Early are critical for national prosperity and global economic competitiveness. Many countries around the globe participate in and highly value reports, such as, "Trends in International Mathematics and Science Study (TIMSS)," which track and rank nations based on their performance in math and science education. For its part, over the last 30 years the United States has had a long list of indicators and reports documenting its declining performance in math and science education especially at the secondary level. Reports such as the 2001 Commission on National Security to the National Research Council's 2005 America's Lab Report, "Investigations in High School Science," there is this awareness. It is also reflected in a 2006 international student assessment that ranked American students 21st out of 30 in science literacy among students from developed countries, and 25th out of 30 in math literacy.
So Murray's passionate advocacy for early research participation as a sustainable solution for science education and economic competitiveness is right on the mark and consistent with efforts such as the recently launched "Educate to Innovate" initiative by the White House and U.S. Department of Education. His latest video promoting the message 'You're not too young to research,' can be viewed at www.youtube.com/watch?v=nQ2PMfCYoAU.

School officials in Detroit, Mich. and South Bend, Ind. have recently expressed interest in the BEST Early program, with an eye toward replicating its success at the high school level. Michigan officials like U.S. Senator Debbie Stabenow, Governor Jennifer Granholm and State Representatives Sharon Tyler and John Proos have applauded the efforts of BEST. In April, Senator Stabenow's regional manager, Mary Judnich, paid a three-hour "show and tell" visit to Murray's Math Science Center Grade 12 research class.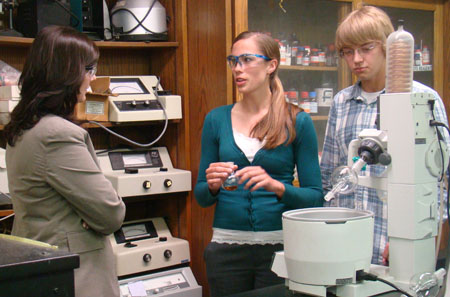 Jill Bender (middle) and Zack Mattson (right) explains the rotoevaporator to
Senator Stabenow's Regional Manager Mary Judnich (left).
Actors for the video came from the Boys & Girls Club of Benton Harbor, Mich., the Homeschool HUB of Niles, Mich., and Berrien RESA Math Science Center. The local production company for this video, Giant House Productions, is operated by two Andrews University alumni–James Gigante and Steven Huset. In addition, voiceovers were done by Kenneth Harper, former Mayor Pro Tem of the City of Benton Harbor, Marcia Kilsby, associate professor of clinical and laboratory sciences and chair of the Andrews University Department of Clinical & Laboratory Sciences, and retired faculty Bill Mutch and Peter Wong of the Andrews University Department of Chemistry & Biochemistry. The video soundtrack was done by former Andrews student Andrew Osano of Berrien Springs, Mich. The video was shot on location at the Andrews University Science Complex.
Kaylee Edwards of Sodus, Mich., a 2010 graduate of the Math Science Center, a student in Murray's 2010 Grade 12 organic chemistry research class and now a computer science freshman at Michigan Tech, said, "I did enjoy the video shoot. Being around the chemistry instruments brought back a lot of fun memories. Knowing that I contributed to spreading a message about not being too young to do research was a great reward in itself."
-Contributed by Desmond Murray