Employees Sponsor Bibles for Freshman
Top Headlines
Date:
September 20, 2010
Contact:
pr@andrews.edu
Website:
http://bible.andrews.edu/
Phone:
University administration and the Fall Fellowship Committee are proud to announce university employees have surpassed their $10,000 goal to fund the Freshman Study Bible Project. Because of pledges and donations given by 135 University employees, all incoming freshmen had the opportunity to receive an Andrews Study Bible free of charge.
The Fall Fellowship Committee, with the support of University administration, set a goal to sponsor the 400 study Bibles at the beginning of summer.
"We want to make it clear that the Bible is an absolute essential in the Andrews experience and the Andrews Study Bible is the ideal gift to accomplish that," said Ron Whitehead, assistant to the president for spiritual life.
University administration assumed the first $20 of the cost of the Bible, and for each $25 employee donation, a freshman would receive the Bible.
Pledges and donations were received throughout the summer, and the $10,000 goal was officially met in early September. Employees who donated to the Fall Fellowship Freshman Bible Study Fund sponsored an average of three Bibles, giving some $78. Several employees donated $500, and the largest gift given by an employee was $1,000, a donation that sponsored 40 study Bibles!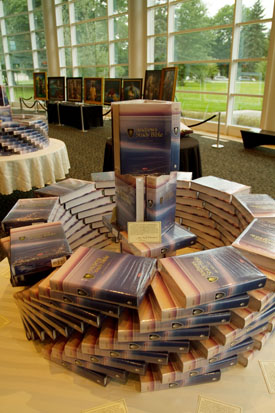 "Seeing our campus community come together to accomplish this goal in such a short period of time is inspiring to me," says Chris LeBrun, director of development, Office of Development. "It's a reminder that not every donor has to be a major donor to make a tremendous impact in the lives of our students."
Students were very grateful when they learned that employees covered the cost of the book. Aimee-Joy Cork, a freshman from Houston, Texas, recently wrote on her Facebook page: "Just got back from a long, tiring, but fun retreat for the Freshmen women. The place was on the lake so I was able to walk along the beach. It was really beautiful. Also, all freshmen were given the Andrews Study Bible. The faculty and staff helped to raise money to donate the Bibles to all of the freshmen (about 400). ...So I'd like to say thank-you to anybody that donated money to help buy the Bibles for us."
Donations for the Fall Fellowship Freshman Bible Fund are still being received:
• To make a pledge now and pay by September 30, send an e-mail to
development@andrews.edu
, or call Mary Nell Rosenboom at 269-471-3124. She'll record your pledge and you'll get a payment reminder by September 30.
• To make a donation now by cash or check, give it in person, or send via intercampus mail (0660), to Mary Nell in the Office of Development.
• To make a donation by credit card on the University website, click
here
.