Andrews IRLI Attends Conference
Top Headlines
Date:
October 1, 2010
Contact:
nicholas@andrews.edu
Website:
Phone: 269-471-3500
Nicholas Miller, director of the Andrews University International Religious Liberty Institute (IRLI), played a leadership role as conference secretary and lead drafter in a groundbreaking religious liberty conference held this September in Amman, Jordan. For the first time in its history, the International Religious Liberty Association (IRLA), a partner organization of the IRLI, held its Meeting of Experts in the Middle East, on September 8 in Amman, Jordan. Conducted in cooperation with the Arab Bridge Center for Human Rights and Development, each association shares a common goal of promoting human rights, interfaith relations and peace.
The theme of the 12th IRLA Meeting of Experts, "Teaching Respect of Religion," provided opportunities to encourage a climate of peace and respect between religions in Jordan and the encouragement of the authorities to promote dialogue between religions. According to Amjad Shmmout, attorney and president of the Arab Bridge Center; John Graz, secretary general of the IRLA; and Nicholas Miller, director of the Andrews University IRLI; this meeting will be the first step in a larger partnership.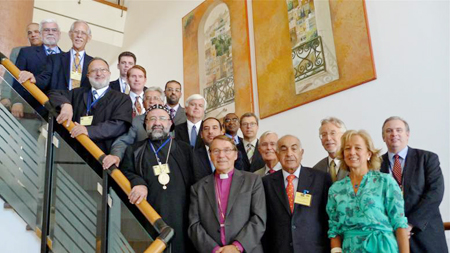 Participants of the International Religious Liberty Association Meeting of Experts, held Sept. 8 in
Amman, Jordan. (Photo courtesy of Rajmund Dabrowski)
Miller says, "This event marks the first time that the IRLA and the IRLI had sponsored a conference jointly with an Arabic organization. We hope to build on this event and expand the discussion and dialogue on this vital topic of peace and respect among religions in the Middle East."
The meeting was attended by religious leaders and scholars from the Islamic world, as well as from a number of different Christian denominations. A preliminary report on the conference has been written. Miller is helping coordinate the assembly of a complete report by the Conference's drafting committee.
The purpose of the International Religious Liberty Institute is to foster the study of the principles of religious liberty and church state relations upon sound methods of biblical, historical, legal and philosophical scholarship and to spread these principles through publications, lectureships, conferences, symposiums and the support of public advocacy.