Scott Krippayne at the Howard
Top Headlines
Date:
October 25, 2010
Contact:
hpac@andrews.edu
Website:
Phone: 269-471-3560
Christian performing artist Scott Krippayne will bring his contemplative and reflective lyrics to the stage at the Howard Performing Arts Center located on the campus of Andrews University at 8 p.m. on Saturday, Oct. 30, 2010, as part of
The Howard Center Presents
...for the 2010–2011 season.
Krippayne is a Christian singer/songwriter from Seattle, Wash., whose guitar and piano-filled music has inspired audiences since 1992. Voted the 1996 Christian Artist of the Year and nominated at the Dove Awards for Inspirational Song of the Year and New Artist of the Year, he is best known for his personable lyrics and pop-style music.
Interestingly enough, many of Krippayne's songs were made famous by other Christian artists including Point of Grace, Avalon, Sandi Patty, John Tesh and Jaci Valasquez. As a songwriter, over 200 of his compilations have been recorded by different bands, including five number-one hits and 20 Top 10s.
"I can't pretend to know how or if these songs will impact people," says Krippayne, "but my hope is that God's Spirit will reveal what He will to those who will hear."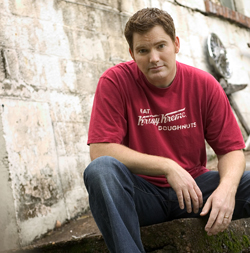 Besides nine of his own number-one songs, Krippayne wrote the winning song for American Idol: Season Six entitled "This is My Now," which was recorded by American Idol winner Jordin Sparks in 2007.
His newest album,
Simple Worship
, came about because of a personal goal he set in 2007 to write one worship song a month. Many of the album's songs were born out of that season of writing, and the disc also includes other personal favorites as well as two bonus tracks. The songs promise to "encourage, inspire, refocus, remind and renew the soul."
Tickets for Scott Krippayne can be purchased by calling the Howard Performing Arts Center box office at 269-471-3560 or 888-467-6442. Reserved seating tickets are $15, faculty/staff tickets are $10 and Andrews University student tickets are free. Special rates apply for groups and Flex Series tickets. Learn more by visiting
www.howard.andrews.edu
.