Professor, Alum Win Design Challenge
Top Headlines
Date:
November 29, 2010
Contact:
pr@andrews.edu
Website:
Phone:
Andrew von Maur, associate professor at the Andrews University School of Architecture, and Jesse Hibler of Hibler Design Studio, Berrien Springs, Mich., are the winners of the 2010 Traditional Building Exhibition and Conference Design Challenge. The challenge took place at Chicago's Navy Pier during the biannual Traditional Building Exhibition and Conference held Oct. 20-23.
Architects come from around the world for the event and have the opportunity to receive 24 continuing education credits in just four days. Each year, the conference offers a variety of workshops, tours, seminars, demonstrations and a chance to participate in the popular Design Challenge.
This year's Design Challenge was a team competition consisting of two to three participants per group. Teams were composed of architectural or building design firms and groups from colleges, technical colleges and universities. The goal of the competition was to completely design and draw a new "old" house for the historic Jefferson Park neighborhood of south Chicago in just 2 days.
The Hibler Group/Andrews University was accepted for the competition after submitting three examples of work, including renderings, images and photos.
"Jesse Hibler (Andrews University Class of 2000, Master of Architecture) and I applied to enter the competition because we had observed the process during previous conferences and thought it would be a fun challenge to compete against some of the best professional talent in the business," said von Maur. The two have collaborated on professional projects in the past, and knew that they could work well with each other.
Going up against four of the top design firms in the United States, the team felt "honored to be selected" and worked very quickly when the process began.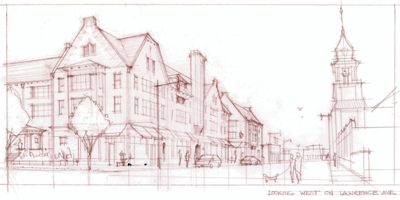 A street level view of von Maur and Hibler's design.
"To all of our surprise, we were asked to design a much larger program than was typical of past competitions," said von Maur. "Our proposal included designs for approximately 75,000 square feet of mixed-use development, including a diversity of commercial spaces, four row houses, eleven different residential flats, and live-work dwellings for artisans."
To add to the difficulty, the Hibler Group/Andrews University was facing off against very tough competitors, including the former first-place winning office from Grand Rapids, Mich., as well as a firm from New Orleans, La., and one from Birmingham, Mich.
Refusing to work during the Sabbath hours, von Maur and Hibler completed their design in just 12 hours, working four less than the opposing teams. The process was fun, but intense, says von Maur, especially with hundreds of conference visitors swarming around and looking over shoulders.
When finished, the group presented their final design (on 18" X 24" drawing vellum) to a distinguished jury that included Chicago community leaders, nationally renowned architects and product industry representatives. The presentation was completely hand drawn and included floor plans showing "best location of house, patios, driveway and walks."
In the end, Hibler Group/Andrews University was chosen as the winner of the event, landing von Maur and Hibler publication in the nationally distributed
New Old House
and a contract to sell the design through
New Old House
for one year.
"Professor Andrew von Maur and alum Jesse Hibler are both very gifted and dedicated professionals, and I am very pleased with their achievement," says Carey Carscallen, dean of the Andrews University School of Architecture. "... They represent our program well and continually strive to improve the quality of the education our students receive. It is a pleasure to work with professionals of this caliber."
Previous conferences have taken place in Boston, Mass., and New Orleans, La. The biannual event is hosted by Restore Media LLC, an information company dedicated to "growing green" through historic restorations, renovations and traditionally inspired new construction tactics.