BarlowGirl at the Howard
Top Headlines
Date:
January 26, 2011
Contact:
hpac@andrews.edu
Website:
www.howard.andrews.edu
Phone: 269-471-3560
The sisters of BarlowGirl, a rising contemporary Christian band who combines the beauty of songs and ballads with emotionally weighty wordplay, will take to the Howard Performing Arts Center stage at Andrews University on Saturday, Jan. 29, 2011, as part of
Howard Center Presents...
for the 2010–2011 season.
Since first forming in 2002, Rebecca, Alyssa and Lauren Barlow of BarlowGirl have always represented an interesting dichotomy: tender-hearted, beautiful young women who aren't afraid to take an aggressive, almost warrior-like stance when it comes to spreading the gospel and serving God. Their self-titled 2004 debut album introduced listeners to their intimate lyrics and bold challenges. In their words, "Success is not hit records or number one songs. Success is obeying God."
The siblings have written and recorded such landmark hits as
Never Alone
, which became Radio & Record's Christian Song of the Year in 2004, and have been nominated for 10 Dove Awards. Another crowd-favorite,
I Need You to Love Me
, topped the charts for 13 weeks in 2005, making it the longest number-one single in Christian Radio Weekly Chart History.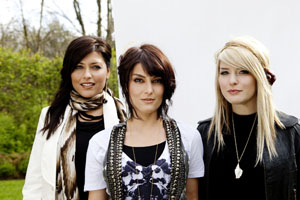 The trio's achievements and rock-style music have earned them best-selling Christian artist status. Their newest CD,
Love & War
, features guitar and piano-filled "battle songs about standing up for what we believe in and knowing what God is calling us to do," says Lauren, "and then there are a lot of songs on this album about love." Currently, the girls are on tour performing several songs from the new album. Just six years into their musical ministry, they claim to be "as passionate as ever" about sharing their beliefs with others.
Tickets for BarlowGirl can be purchased by calling the Howard Performing Arts Center box office at 269-471-3560 or 888-467-6442. Reserved seating tickets are $20, faculty and staff are $15 and Andrews University student tickets are $10. Special rates apply for groups and Flex Series tickets. Learn more by visiting
www.howard.andrews.edu
.