Vacation and Mission in One
Top Headlines
Date:
January 25, 2011
Contact:
pr@andrews.edu
Website:
Phone: 1-800-968-8428
Christmastime cruises are pretty common, and for good reason—you can spend a week or so doing exactly what you want in a warm, sunny place, while someone else cleans your room and serves your meals. But what if you went on a cruise with the intent of serving others?

That's the purpose of Cruise with a Mission, an annual Christmastime mission project under the direction of José Bourget, assistant director of the Center for Youth Evangelism. On December 12, 2010, just over 100 participants left Tampa Bay, Fla., to assist with mission projects throughout the Caribbean, strengthen their relationship with God and form friendships.

In Key West, Fla., they helped at the Key West Wildlife Center, the local Salvation Army and Seventh-day Adventist Church, and did various environmental projects. On Grand Cayman Island, participants led a high school rally for more than 400 students, passed out gifts to young children, conducted a vegetarian cooking class for the staff of the public hospital, and painted and reroofed the home of a local woman. At the Bonaventure Boys' Home , they built a sidewalk and did general landscaping and painting repairs.

On their way to Jamaica, the entire cruise ran into some problems. The ship was unable to dock at their Jamaica port, leaving many of the other passengers disgruntled. Normally, the staff of a cruise ship uses docking days to catch up and make necessary preparations. Without their two stops in Jamaica, the ship's staff was overworked. Instead of service projects on land, Cruise with a Mission participants focused their attention to helping onboard. They decorated 19 gingerbread houses, prepared crafts for over 300 children on the ship, helped decorate a room, and took inventory of over 3,500 books in the ship's library. "The staff were overwhelmed with joy and relief by our service," says Bourget.

Ryan Whitehead, an Andrews graduate student and first-time Cruise participant, was reminded that "ministry can and does have the potential to have an impact wherever you are at, even on a ship at sea!" Darlene Doran, a junior, was another Andrews student who felt God was calling her to go on Cruise with a Mission. She helped decorate the gingerbread houses, and remembers that other cruise participants thought the houses, later used as decoration, had been done by professionals. "When they found out our group had decorated them all," she said, "it opened up a lot of interest about who we were and what we were there for."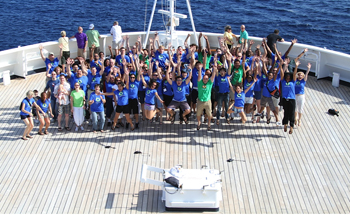 Cruise with a Mission was also a time of spiritual renewal. Many of the participants say they rediscovered "what an amazing God we serve" and were able to strengthen their relationship with God.

This was the fourth year for Cruise with a Mission, which sets sail each December. The 2010 theme was "Do. Love. Walk." based on Micah 6:8. Featured speakers included José Bourget, Japhet De Oliveira, director of the Center for Youth Evangelism, and Roy Ice, chaplain at Pacific Union College. Throughout the cruise, breakout sessions were led by Denis Fortin, dean of the Seventh-day Adventist Theological Seminary, Keren Toms, chaplain for Outreach at Andrews University, and graduate students Tony Hunter, Wilfred Adderly and Jessie Lopez.

Cruise with a Mission 2011 is scheduled for December 11–18, 2011. Registration is already underway. Learn more at www.cruisewithamission.org.

The Center for Youth Evangelism is a training and resource center for claiming, training and reclaiming youth and young adults for Jesus Christ. It is located on the campus of Andrews University as part of the Seventh-day Adventist Theological Seminary.
-Written by Samantha Snively, student news writer, Office of Integrated Marketing & Communication