Dining Services Management
Top Headlines
Date:
January 15, 2011
Contact:
pr@andrews.edu
Website:
Phone:
"The best part of my job is the opportunity to work with and minister to the students," says Jonathan Mark Daniels, the newly appointed general manager of Dining Services at Andrews University. Daniels is officially an employee of Bon Appétit Management, the onsite restaurant company running Dining Services.

Daniels graduated in 1999 with a BA from Auburn University in Auburn, Alabama. It was May 2009 when Daniels came to Andrews University to study in the Seminary. As with most full-time students, he needed to find a job to help pay the bills. Although his professional background includes management roles in both the banking and restaurant industries, Daniels was thankful for the employment opportunity when he accepted the sanitation leader/building manager position for Dining Services in August of 2009. A year later, his role expanded to also include retail management responsibilities for the Gazebo and campus vending.

Daniels' previous experience in the restaurant industry includes six years working as an operator and corporate trainer for Chick-Fil-A, Inc. In this role, he was responsible for traveling to new restaurant locations to hire and train staff. He managed virtually all aspects of the restaurant business from administrative duties, including human resources, financials and marketing and brand management, to being hands-on with customer service and food quality and safety. Daniels then spent time working as an operating partner for Q Partners, Inc., a position that put him in the growth stages of restaurants ranging from construction management and remodeling, to developing standardized processes for restaurant operations to allow expansion of franchise sales. Beginning in 2006, Daniels honed his management skills as a sales manager for Impact Mortgage where he managed a team of fourteen bankers and loan managers.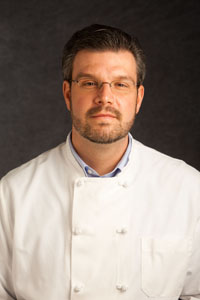 Jonathan Mark Daniels
"God brought us here and we are very grateful and humbled to be serving Andrews University," says Daniels. "I appreciate the opportunity to use my gifts of ministry and management in one single role. Bon Appétit's philosophy of food matches up with our Adventist health message and I know that this will only help make Dining Services more successful."
During his first few weeks in this new role, Daniels sat down with his staff to share his vision for Dining Services. "We serve the students of Andrews University by providing them with nutritious, delicious food and creating a dining experience that offers comfort and consistency to University life," said Daniels. "We obviously don't ignore the staff/ faculty or the community, but we know the students are the reason we are all here."
Mark and his wife, Jessica, have four children. Originally from Georgia, they now reside in Buchanan, Mich. In his spare time, Daniels leads a men's small group, teaches a Sabbath School class and enjoys cooking.
-Written by Keri Suarez, media relations specialist, Office of Integrated Marketing & Communication