Women's Ministries Scholarship
Top Headlines
Date:
January 31, 2011
Contact:
pr@andrews.edu
Website:
Phone:
Andrews University student Chantel Atkinson is the recipient of the North American Division (NAD) Women's Ministries Scholarship for the Lake Union. Scholarship winners were announced at the beginning of December and also hail from Weimar College, Southwestern Adventist University, Union College and Atlantic Union College.

Chantel, an architecture major, is a Canadian student from Ottawa, Ont. She is involved in Bilingual Kids Outreach Ministries and Silent Praise. She also participates in the University's architecture club and intramurals.

Chantel has enjoyed her experience at Andrews, despite the financial difficulties of being an international student.

"As a Canadian student it is nearly impossible to get funding when you don't get a discount from family members and you don't have an American sponsor or co-signer or go to a Canadian school," she says.

While searching for scholarships online, Chantel discovered the Women's Ministries Department and felt God had put a scholarship opportunity directly in her path. She claims receiving the $500 award was "truly a miracle" because without it, she could not have enrolled in her last semester of the architecture program.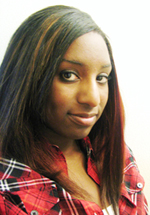 "Receiving this scholarship means so much to me because it is just another way that God taps me on my back and lets me know that He has all my worries taken care of," says Chantel. "I really appreciate that the Women's Ministries Department has outstretched their hand to a fellow young woman to encourage me to achieve my goals and to believe in my potential to become a strong, God-fearing woman in this world... I praise God for what He has provided."

Women's Ministries Scholarships are awarded to women who are committed to the Seventh-day Adventist Church and those who would otherwise be unable to afford Christian education. Scholarships are awarded on the basis of academic achievement, financial need, leadership skills and community outreach.

To learn more about the Women's Ministries Department, visit www.nadwm.org.

-Written by Ashleigh Jardine, student news writer, Office of Integrated Marketing & Communication