Thorpe Named Dean of Distance Education
Top Headlines
Date:
February 14, 2011
Contact:
pr@andrews.edu
Website:
Phone:
Alayne Thorpe has been appointed as dean of Distance Education for Andrews University. Concurrently, she is also serving as the interim president of Griggs University, whose ownership was transferred to Andrews University in November 2010. Upon the physical move of Griggs University to the Andrews campus, Thorpe's role will become solely focused on being the dean of Distance Education at Andrews.
For the past 30 years, Thorpe has served in a variety of capacities for Griggs University, beginning as a course developer/editor, soon taking on a director-level role and spending much of her career with Griggs as senior vice president for education. Owned and operated by the Seventh-day Adventist Church and headquartered in Silver Spring, Md. since 1909, Griggs University has provided values-based distance education to students around the world from preschool through college and graduate levels.
Thorpe is a triple alum of the University of Maryland. She holds bachelor (1977) and master (1980) degrees in English and a PhD in Modern British Literature (1987).
Following completion of her undergraduate studies, Thorpe began teaching high school English at Montgomery Blair High School. During this time, she worked with the University of Maryland and the Maryland State Writing Commission to design new models for teaching writing in the state.
Thorpe began her 30-plus year career in 1980 at what was then known as Home Study International and today is known as Griggs University. As a course developer/editor, she evaluated completed courses; changed existing content to improve courses; and worked with teachers to design new courses to employ best practices.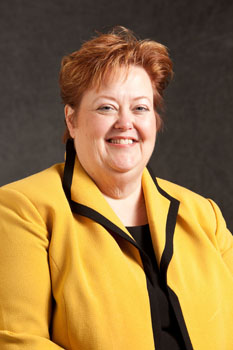 In 1985, she became director of High School and College Programs for Griggs. All college and high school programs were under her supervision, in addition to having oversight on curriculum development and instructional design plans.
In 1989, Thorpe was appointed senior vice president for education at Griggs University. In that role, she had supervision over all educational programs including management of curriculum development. Thorpe was integral in establishing and updating academic standards, policies and procedures, as well as maintaining state, regional and national accreditations at all levels. Since 1988, she has also served as a part-time adjunct professor in English and education for both undergraduate and graduate levels at Washington Adventist University, University of Maryland and University of Maryland University College.
Thorpe holds a number of professional memberships including the National Council of Teachers of English; Modern Language Association; International Society for Technology in Education; and Association for Supervision and Curriculum Development. She serves on the Education Standards Committee and the task force on International Affiliations for the Distance Education and Training Council; is a member for the State of Maryland's task force on homeschooling; and on the North America Division Curriculum Committee, to name a few.
-Written by Keri Suarez, media relations specialist, Office of Integrated Marketing & Communication